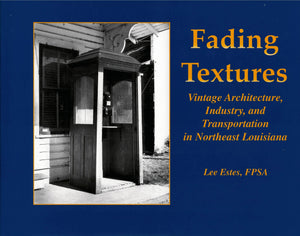 Fading Textures: Vintage Architecture, Industry, and Transportation in Northeast Louisiana
by Lee Estes, FPSA
About the Book
This publication contains images taken by noted Louisiana photographer Lee Estes over the course of four decades. The author's fascination with northeastern Louisiana, his adopted home, prompted him to create a visual record of the region's architectural tapestry and industrial and transportation infrastructures. Estes's photographic essays explore such varied topics as rural residences, urban residential architecture, shotgun houses, small town and rural commercial structures, farm and plantation buildings, churches, public buildings, industrial structures, and transportation. Because so many of the area's familiar landmarks, some common to the extreme and others perhaps unique, are vanishing with every passing day, Fading Textures will have lasting value to anyone interested in a world that is rapidly becoming a distant memory.
About the Author
Lee Estes was born at Winchester, Kentucky, on June 16, 1925. He attended Centre College of Danville, Kentucky, in 1942-43. He served in the 94th United States Infantry Division from September 1943 until March 1946. He was employed as a mechanic and commercial pilot with multi-engine and instrument ratings in the general aviation industry from 1946 to 1978. From 1978 to 1987, he was a master mechanic with the Arkansas and Louisiana Missouri Railway.
Estes is best known as one of the nation's premier black and white photographers. From 1984 to 1989, he ranked among the top twenty-five monochrome exhibition photographers in North America. In 1986, he was among the top fifteen monochrome photographers in the world. His photographic exhibits have been displayed throughout the South, and his images have appeared in such prestigious publications as the Journal of the Photographic Society of America. In 1990, he was named a Fellow of the Photographic Society of America, and, in 1999, he was recognized as the artist of the year in Northeast Louisiana.
Hardcover | 397 Pages | ISBN: 1-887366-38-5