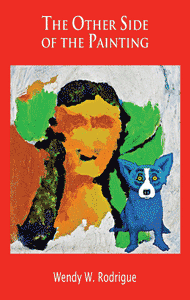 The Other Side of the Painting
by Wendy Rodrigue
Wendy Rodrigue's book, The Other Side of the Painting, derives from her popular blog, Musings of an Artist's Wife. "She's the other side of my hit record," joked Wendy's husband, artist George Rodrigue, the impetus for the original online project, as it began in 2009. In the book, Wendy reveals for the first time in print the personal history behind Rodrigue's art.

Although based on her blog, Wendy approaches many of her early subjects in a new way, while reorganizing her favorite posts into chapters such as, "It's like I'm gonna get a stick stuck in my eye, and I can't wait to get it 'cause it's good for me," illuminating lively debates on the arts between husband and wife, and "Treat your painting like a jewel," which shares the methods and lessons that helped shape Rodrigue's art.

She also addresses in detail the early history of Rodrigue's Blue Dog, along with analyses and quotes from the artist describing some of his most famous Cajun and Blue Dog works.  The book weaves Rodrigue's early years in New Iberia, Louisiana, with Wendy's in Fort Walton Beach, Florida, revealing both as rooted in the arts, yet products of their childhoods in the 1950s and 1970s, respectively.

The chapters "Born on the Beach" and "A Woolf inspires a Wolfe" are Wendy at her most vulnerable. It was these posts, to her surprise, that resonated most with her blog readers. In The Other Side of the Painting, she restructures and approaches these essays anew, exposing the personal history and inspirations that brought her not only to a life devoted to art history, but also to a life as muse and archivist to one artist.

"Wendy Rodrigue has the soul of an artist and the pen of a writer. She writes with honesty, humor, emotion and a love of life and art. Her book is a meditation on both."               
-‑Debra Shriver, author, Stealing Magnolias: Tales from a New Orleans Courtyard

"Rodrigue's aim for the heartstrings and the funny bone is what makes this book so engaging. An UNpretentious book about art--who'd have ever thought?!?"                                    
--Tabitha Soren, journalist and photographer

"In The Other Side of the Painting, Wendy Rodrigue paints an indelible and courageously candid portrait of one of America's preeminent living artists, her husband, George Rodrigue. But this is a tale of two artists as, through a bold progression of essays, muse emerges as creator in her own right, Writer Wendy Rodrigue. Here, heart, wisdom, and the gift of acute observation coalesce in an expansive contemplation of art, culture, and yes, romance at once passionate and reverent."  

--David Lummis, author, The Coffee Shop Chronicles of New Orleans

About the Author

Wendy Wolfe Rodrigue grew up in Fort Walton Beach, Florida, where her father was stationed at Eglin Air Force Base. She graduated from Trinity University in San Antonio, Texas, with degrees in Art History and English, followed by graduate studies at Tulane University in New Orleans and one year at the American University in Vienna, Austria. In 1991 Wendy joined the staff of the Rodrigue Gallery in New Orleans and moved later that year to Carmel, California, where she managed George Rodrigue's gallery for six years. Today, Wendy remains involved in Rodrigue Gallery operations and the George Rodrigue Foundation of the Arts; writes occasional guest columns for publications including Gambit, Country Roads Magazine, and Louisiana Cultural Vistas; works on Rodrigue exhibitions and publishing projects; and lectures frequently on Rodrigue art and Louisiana history. Wendy is a past member of the Board of Trustees of the New Orleans Museum of Art and the Louisiana Endowment for the Humanities. George and Wendy married in 1997 and lived in Lafayette, Louisiana, before moving to New Orleans in 2001. Today they divide their time between their homes in New Orleans's Faubourg Marigny and Carmel Valley, California. Wendy's blog Musings of an Artist's Wife can be found at www.wendyrodrigue.com. 

Hardcover, 474 pp., ©2013

ISBN: 9781935754268