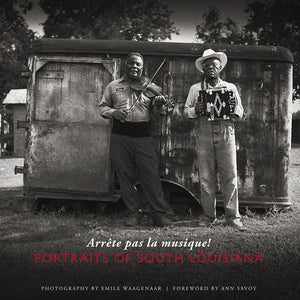 Arrête pas la musique!: Portraits of South Louisiana
by Emile Waagenaar; Foreword by Ann Savoy
From the "Introduction":
I first stood on Louisiana soil in Lafayette during May of 1982. There, I found myself standing at the crossroads of another culture. Shortly after, I heard about a Clifton Chenier gig scheduled for the next day at the Grant Street Dancehall. Clifton was very ill and could not perform that night, so Rockin' Dopsie filled in. That evening someone gave me Ambrose Thibodeaux's name and address written on a paper napkin. This is how it went every trip I took—acquiring names of musicians scribbled on little pieces of paper or cardboard beer coasters. . . . .
This is my story—how I discovered Cajun music and its musicians. Several times I went back; time and again I was surprised by the cultural endurance of this relatively small group of people. Both old and young keep their history alive through a simple bond—the culture, the language, and the songs of their ancestors. . . . This is not a historical document about these people and their music, and it is far from complete when it comes to even musicians. These images instead record my journey into a culture that continually captivates me.
Emile Waagenaar was born in The Hague, the Netherlands, into a very musical family. Later in life he studied at the Academy of Fine Arts in Breda, the Netherlands, where he earned a Master's Degree with high honors in Photography and Audio Visual Design. In 1979 he heard unfamiliar music on the Dutch radio—Cajun music from southern Louisiana. It sounded pure and honest. Three years later Emile traveled to Louisiana to find the Cajun music he had heard on the radio. A portrait series of some pioneer musicians developed and grew with documenting the next generation of younger musicians who were beginning to carry on this Cajun tradition. He traveled a number of times to Louisiana to add more musicians to this photographic collection. In 2010 the Smithsonian Institution in Washington, D.C., enthusiastically accepted his donation of sixty-four Cajun musician portraits.
Praise for the Book:
 "Emile has a way of gaining the trust of his subjects. One after another they let him into their homes, workplaces, and workshops. There he photographed them in their intimate natural habitats. And in this respect Emile's images offer an unusual perspective—showing, for example, an elderly Cajun musician in his favorite chair, his daily regimen of medicine on a nearby nightstand. Many of the subjects are no longer with us: thank goodness they invited Emile into their homes to document their way of life."
–Shane K. Bernard, Ph.D.
Historian & Curator, The McIlhenny Company
"Emile's photos are a unique take on a frequently photographed world, an intimate look inside the lives of the subjects, a journey into places that not many photographers are allowed to go, or even think to go. The photograph is a rendering of a split second for all eternity, and in these photographic seconds Emile has shown us what he sees here; the result being an intimate and sometimes strange trip through wonderful French Louisiana."
–Ann Savoy
Musician & Writer; Eunice, Louisiana
"Emile Waagenaar, an enthusiastic aficionado of Cajun music, is so passionate about the subject that he has traveled frequently from the Netherlands to Louisiana for more than thirty years to photograph Cajun musicians. Since he fears that this distinctive music is at risk as older musicians die, while other popular music distracts audiences away from traditional forms and styles, his photographs are instilled with an urgent missionary spirit. He hopes not only to create and preserve visual records of important musicians and their environments, but to convey the joy and vitality of Cajun music to the viewers of his poignant photographs."
–David Haberstich
Curator of Photography, Archives Center
National Museum of American History
Smithsonian Institution
ISBN: 9781946160058
Hardcover, 126 pp., ©2017
October 10, 2017.