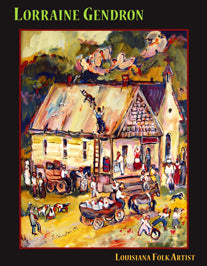 Louisiana Folk Artist

with Nancy Wilson
The first extensive treatment of the Hahnville, Louisiana-based artist Lorraine Gendron, whose Mississippi River mud sculptures, painted wood cutouts, acrylic on wood paintings, and primitive dolls are treasured by collectors from around the world. 
About the Artist
From spirited angels on high to Jazzmen sweet and down low, multimedia artist Lorraine Gendron is inspired by the colorful traditions and rituals of Louisiana. While it was her Mississippi Mud dolls that brought Gendron to national attention in the 1980s, she has concentrated more recently on creating painted wood cutouts and acrylic on wood paintings.

Gendron has received numerous awards and honors through the years. Her portrait "Sweet Emma" is included in 20th Century American, Folk, Self-Taught, and Outsider Art by Betty-Carol Sellen and Cynthia J. Johanson; her work is also featured in other art reference books, including Coming Home! Self-Taught Artists, the Bible, and the American South by Carol Crown; The Traveler's Guide of American Crafts (East of the Mississippi); Fait a la Main: A Source Book of Louisiana Crafts; and Myth, Memory, Imagination: Universal Themes in Life and Culture of the South, by Julia Noreli. Gendron's painting "Feeding New Orleans" graces the cover of Celebrating 200 Years of the River Parishes' History by Judy Creekmore."

Gendron has exhibited her unique work at numerous festivals in Louisiana, Alabama, Florida, Virginia, and Arkansas, and has for the past twenty-five years participated in the New Orleans Jazz and Heritage Festival. She was one of five area artists commissioned by New Orleans Mayor Ray Nagin in 2003 to create gifts for visiting dignitaries and was one of forty area artists chosen to decorate fiberglass fleurs de lis by the Fore!Kids Foundation in 2007 to benefit local children's charities. Since 1993 Gendron has introduced countless young artists to sculpture by encouraging them to develop their talents during summer camps sponsored by the St. Charles Art Guild. 

Gendron's work has been shown in many prestigious venues and is included in fine art museums across the South and in international collections. Her work has been exhibited at the 1984 World's Fair, the McKissick Museum at the University of South Carolina, the Arkansas Arts Center in Little Rock, the Art Museum of the University of Memphis, the American Folk Life Shop in the Library of Congress, and the New York Museum of Folk Art. Gendron's Cajun nativity scenes, complete with alligators, armadillos, and baby Jesus nestled in a pirogue, are part of several collections including museums in Marion, Ohio, and Arles, France. Her large mud sculpture grouping "Preservation Hall Jazz Band" is part of the Ripley's Believe it or Not collection.

Lorraine Gendron lives in Hahnville, La., with her husband, Louis, and their dog, Deuce.
Softcover, 128 pages, ©2009
ISBN: 9781887366939