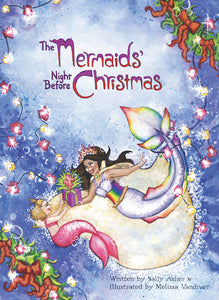 About the Book
For as it has been for centuries and centuries
that each Christmas Eve
Santa Claus takes the land
and his cousin
Calliope Claus takes the sea.

Calliope Claus is known far and wide as the Mermaid Chief.
From ocean to sea.
From river to lake.
From bayou to reef.

While Santa delivers presents around the globe to good girls and boys.
Calliope does the same for mermaids, bringing gems, trinkets, and toys.

With imagination and warmth, author Sally Asher and illustrator Melissa Vandiver bring a bustling underwater North Pole and all of its inhabitants to life. The Mermaids' Night Before Christmas tells the enchanting tale of Mermaid Chief Calliope Claus and her team of narwhals on their joyful Christmas Eve journey delivering gifts to mermaids around the world.

About the author:

Growing up on a small farm in Washington state, writer and photographer Sally Asher has called New Orleans home since 1994. Asher has been the public relations photographer for Tulane University since 2008 and is the author of various New Orleans history books. Asher holds two master's degrees from Tulane University, in English and Liberal Arts with a concentration in history. Recent recipient of the New Orleans Press Club's First Place award for feature reporting, Asher frequently lectures on New Orleans history through the Louisiana State Museum. A member of multiple Mardi Gras krewes, in her spare time Asher enjoys spending time with her family, friends, and animals and enjoying the endless joie de vivre that New Orleans has to offer.

About the illustrator:

Melissa Vandiver is a New Orleans-based artist specializing in painting. Growing up in South Carolina with an artist mother, she's been drawing and painting since she can remember. In an attempt to do something practical with her life, she studied architecture at Clemson University, and came to New Orleans shortly thereafter in 2007. She was only supposed to stay two months. Electrified by the vibrancy and culture of the city, she continues to draw inspiration from it as she balances working as a full-time artist, spending time with her husband and tiny dogs, and putting glitter on things.
Hardcover
36 pages
ISBN: 9781946160553