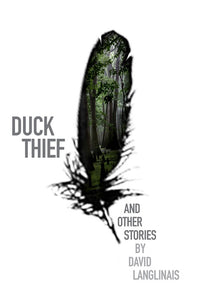 Duck Thief and Other Stories
by David Langlinais
Honorable Mention in the Short Stories category of the Foreword Reviews' INDIEFAB Book of the Year awards.
"David Langlinais weaves textured, evocative tales of family and outdoorsmanship, of the human struggle to find identity in an ever-changing landscape. Duck Thief and Other Stories--set mostly in Louisiana's southern parishes--is reminiscent of Ellen Gilchrist, with stories rich in the native culture and French patois. Langlinais's voice is clear, straight-forward and seemingly effortless. Pride, race, death, mental illness, infidelity--no subject is off-limits. Cajun narratives, as well as those taking place in big-city Texas, shine a light on characters trying to find their way through the world, to make sense of situations that make no sense at all."
--Daniel J. Hale, Agatha Award-winning author
"Duck Thief and Other Stories is a stunning collection by a fine new voice in Southern literature. David Langlinais comes from that great tradition of American storytellers that gave us Ernest Hemingway, Raymond Carver, and Richard Ford. The people who populate his stories are our friends and neighbors, and they live, work, and play where we do. His language is spare and unpretentious, and the rhythms of his prose lead us from moments of simple beauty to profound revelation. Haunting, compassionate, heart-breaking...these are some of the best stories I've read in a long time."
--John Ed Bradley, author of It Never Rains in Tiger Stadium
"Whether through voyeurism, unlikely friendships, or dangerous situations, many of the characters in David Langlinais's stories are searching for some form of human connection. Written in a genre that could be described as Bayou Noir, the author uses the surrounding landscape to tell his stories, a blend of satire, sadness, and suspense, but always honest and always hopeful."
--Erin Z. Bass, Deep South Magazine
About the Author
David Langlinais has published stories in numerous journals, including South Dakota Review, Los Angeles Review, The Dos Passos Review, Big Muddy, Deep South Magazine, and The MacGuffin. Born and raised in Abbeville, Louisiana, he currently lives in Dallas with his wife, Brenda, and daughter, Juliette, where he works as a freelance copywriter.
ISBN: 9781935754640
Softcover, 188 pp, ©2015