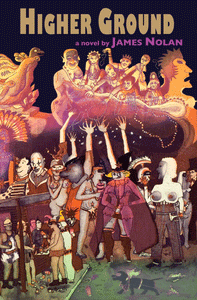 Higher Ground: A Novel by James Nolan
by James Nolan
Five months after a hurricane has devastated New Orleans, native Nicole Naquin is home for the first time in decades. She's living next door to her mother Miss Gertie, an elderly evacuee from Lakeview reduced to pushing pills in a French Quarter gay bar. On the day Nicole's brother is killed in a drive-by shooting, she crashes the car into her high-school sweetheart's FEMA trailer, igniting a sexy romance among the ruins. Homicide detective Vinnie Panarello, himself charged with murder for a shooting after the storm, is assigned to the drive-by case, and works at furious cross-purposes with hippie sleuth Gary Cherry to find the brother's killer. In the process, they uncover much more than either expected.    
This award-winning comic noir novel is a romp though a gritty city fighting for its life, from the mayoral election to Mardi Gras, Lakeview to the French Quarter, the Garden District to Parish Prison. It's a classic story of individual redemption amid collective destruction, one in which crooked politicians rule the day, leaving displaced home owners, bereaved mothers, drag queens, and illegal immigrants to band together for survival and justice. The real protagonist—the people of New Orleans—won't be fooled any longer. As Miss Gertie says, "I'm moving to higher ground."  
"In the frame of a page-turning noir, James Nolan has painted the most chillingly loving portrait of New Orleans. He is the Baudelaire of the post-Katrina city, and both its poetry and horror emanate from this story like a bouquet of carrion and jasmine."   
–Andrei Codrescu, NPR commentator and author of Whatever Gets You through the Night 
"Higher Ground is the funniest book I've read in years. James Nolan gets New Orleans like no one but a born-and-bred native really can. No doubt there will be comparisons to John Kennedy Toole, and they'll be deserved." 
–Julie Smith, author of the Skip Langdon mysteries 
"Like the indomitable city it celebrates, Higher Ground is lively, sensuous, and hot."                 
–Valerie Martin, author of The Confessions of Edward Day 
"If John Kennedy Toole had lived through Katrina and could turn a phrase as well as James Nolan, he might have followed Confederacy of Dunces with a novel like Higher Ground. Read this and weep with laughter." 
–Jed Horne, author of Breach of Faith 
"Higher Ground is a deluge of delights—spectacular characters, fine mystery, astounding transformations, and marvelous images of the Big Easy after the storm. An instant classic of post-Katrina lit." 
–Moira Crone, author of What Gets Into Us 
MEDIA REVIEWS OF HIGHER GROUND
"Were Flannery O'Connor alive today, she would no doubt find James Nolan's Higher Ground well worth reading. It is peopled with grotesques who are at once inherently comic and sympathetic in their quirky spiritual and psychological deformities… They are the hangers-on, the believers, the motley group who intend to bring back both the body and spirit of New Orleans… James Nolan has proven himself a master storyteller."            
   -Terry Dalrymple, Arkansas Review
"This dazzling debut novel set in post-Katrina New Orleans pays both serious and satiric homage to the survivors. Higher Ground abounds in dark humor and comic hi-jinks… but the real attraction is Nolan's representation, in high-powered episodes, of the sensory and spiritual New Orleans he so obviously loves."
                                                       -Philip K. Jason, Southern Literary Review
"Higher Ground, the first novel by New Orleanian James Nolan, may represent the first wave of a new genre… The best part is the depiction of the only-in-New-Orleans characters. Higher Ground is over the top, and Nolan means it to be."
                                                              -Diana Pinckley, The Times-Picayune
"The brutality of life is as entertaining as it is depressing. Channeling the noir genre strongly, Nolan creates the stories of countless characters and their own struggles for survival… Higher Ground is an insightful read, much recommended for community library general fiction collections." 
                                                                         -Midwest Book Review
About the Author
James Nolan, a fifth-generation New Orleans native, is a widely published fiction writer, poet, essayist, and translator. His twelfth book, Nasty Water: Collected New Orleans Poems, came out last year with the University of Louisiana at Lafayette Press, and his recent Flight Risk: Memoirs of a New Orleans Bad Boy(University Press of Mississippi) won the 2018 Next-Generation Indie Book Award for Best Memoir. His fiction includesYou Don't Know Me: New and Selected Stories(winner of the 2015 Independent Publishers Gold Medal in Southern Fiction), the novel Higher Ground(awarded a Faulkner/Wisdom Gold Medal), and Perpetual Care: Stories. He has been the recipient of an N.E.A. grant and two Fulbright fellowships, and has taught at universities in San Francisco, Florida, Barcelona, Madrid, and Beijing, as well as in Orleans.    
Softcover, 288 pages, ©2011
ISBN: 9781935754060