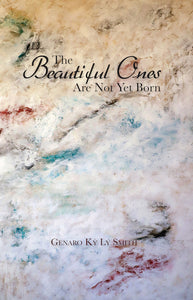 The Beautiful Ones Are Not Yet Born
Genaro Kỳ Lý Smith
 
Whether Vietnam or America, whether 1963 or 2008, the narrators of Genaro Kỳ Lý Smith's stories grieve the ghosts they have lost, and even yearn to resurrect those before their time has come. These stories are unified by the narrators' inability to articulate what is lost, and so they must resort to a simple action. However, there is hope, for as Ly Minh, a nine-year-old narrator from "The False Flight of Angels" best put it in this collection's epigraph, "Heaven affords us the vocabulary, the languages necessary to communicate with the grieving, with the angels, with God Himself, and even with the beautiful ones who are not yet born."
 Praise for The Beautiful Ones Are Not Yet Born:
"Genaro Kỳ Lý Smith's stories, though often situated amid scenes of political and economic hardship or eruptions of sudden violence, are also laced with delicate moments of human frailty, compassion, and love—often between families, but sometimes between strangers or even enemies. It's these moments that make these stories so heartbreakingly difficult, yet rewarding to read. If you appreciate emotional honesty and don't mind the occasional gut-punch, The Beautiful Ones Are Not Yet Bornwill leave you satisfied." 
Dr. John Edward Martin, University of North Texas Libraries
"Vietnam is very beautiful," a travel escort assures an American tourist in Genaro Kỳ Lý Smith's latest collection of stories, "but beautiful things can be scary too." Smith's work reveals the truth behind this conundrum. Rendered in language that is exquisitely subtle in its expression (a quietude prevails throughout the volume), yet exact in its examination of the physical and emotional traumas that have scarred his characters, collectively these stories offer broad insight into grief. Whether set in Los Angeles or in Hanoi, Smith's tales present places and people that are neither exotic nor Other to the reader; indeed, his cities are our cities and his characters heartbreakingly familiar as they navigate losses that reflect our own. Nothing can assuage such suffering, Smith suggests, but consolation may be found in the belief that "the beautiful ones are not yet born."
Dr. Dorothy Dodge Robbins, essayist and critic
 
Genaro Kỳ Lý Smith was born in Nha Trang, Vietnam, in 1968. He earned an M.A. and M.F.A. in creative writing from McNeese State University in Lake Charles, Louisiana, in 1999. He is the author of The Land Baron's Sun:  The Story of Lý Loc and His Seven Wives(UL Press), which won the Indie Book Award for best poetry collection published in 2015. His novel The Land South of the Clouds(UL Press) earned second place for multi-cultural fiction for the same award in 2017. He currently resides in Ruston, Louisiana, with his wife Robyn and their two daughters, Layla and Naomi. He has been teaching literature, composition, and creative writing at Louisiana Tech University since 1999.
ISBN: 978-1-946160-30-0
softcover, 270 pgs., ©2018
October 23, 2018.