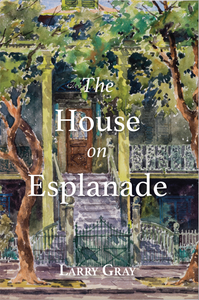 The House on Esplanade
by Larry Gray
Out now!
About the Book
Every year since November 11, 1918, in a house on New Orleans's Esplanade Avenue, Yvonne St. Amant lights a candle for her husband, lost in the Great War. Then on this same day in 1933, a young woman brings a baby to Yvonne's door before shortly disappearing. The baby, nicknamed Bing, grows into a thoughtful, precocious woman whose life intertwines with many of the biggest events of the twentieth century: World War II, an outbreak of polio that leaves her with an almost indiscernible limp, and the summer of love in San Francisco. Along the way, Bing explores abroad, finding romance and heartbreak in Paris, art in the Côte d'Azur, faith in Istanbul.
Returning always to the house on Esplanade, Bing has one ambition through it all, "I don't want to grow old before I grow wise." This is her story.
About the Author
Larry Gray has always been a writer. He supported his family as an English professor and developed his love of theatre as a published playwright and director. He has published many short stories in journals and wrote children's stories, but never stopped writing.
Praise for The House on Esplanade
"In lucid and glowing prose, Larry Gray follows the life story of a young girl the reader will never forget. The House on Esplanade is in every way an authentic New Orleans novel filled with memorable detail and well-realized characters. A delightful page-turner."—Tim Gautreaux, author of Signals: New and Selected Stories
"As warm and delightful as stories get, The House on Esplanade shows how entwined are the elements of place (New Orleans) and time (20th-century history) in the lives of two unforgettable women of different generations. Gray poignantly conveys the tension between the glorious present and the inexorable sweep of time with humor, seriousness, and genuine spiritual insight."—William Dowie, professor emeritus of English, Southeastern Louisiana University
"This big-hearted novel of New Orleans is about Bing, a child left behind by her mother and raised in the house on Esplanade by Yvonne, a loving aunt-first cousin once removed. Bing is bright, beautiful, a creative photographer who never marries but becomes the mother of a son. Her story multiplies into other stories of abandonment, recovery, and personal growth. Larry Gray writes clearly, gracefully, often with humor. He is always in command of his expanding story. Such a rich, moving, enjoyable novel deserves a large audience."—Norbert Krapf, former Indiana Poet Laureate
"The House on Esplanade is a well-crafted tale of a life through the eyes of a writer who knows New Orleans culture. Romance, history, art, cuisine, a skeleton, and family entanglements. Larry Gray paints a story worth the read."—Charley Vance, teacher, actor, playwright, screenwriter
© 2023 University of Louisiana at Lafayette Press
Paperback, 344 pages | 6" x 9" | ISBN: 978-1-946160-98-0