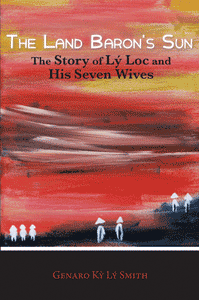 The Story of Lý Loc and His Seven Wives
by Genaro Kỳ Lý Smith
The Land Baron's Sun chronicles through poetry the life of Lý Loc, the son of an affluent Vietnamese landowner who was thought to own the sun by his children, wives, servants, and tenant farmers because it had always shone favorably upon him. Lý Loc lived just as prosperous a life, one in which he rose to the rank of major commander for the South Vietnamese Army and was attended to by seven wives who bore him twenty-seven children. On April 20, 1975, the day Saigon fell, fate took a cruel turn for Lý Loc, as the sun, a symbol of the divine love, refused to shine. His capture by the Việt Cộng and incarceration in a reeducation camp marked only the beginning of the sun recouping all that it had bestowed upon Lý Loc and his family. Smith's poems delve into Lý Loc's childhood and adult life, his years spent in the reeducation camp, and his wives' and children's fate—both in Vietnam and, for those who were fortunate enough to escape, in America. The poems expose the beauty and freedom of the human spirit and the lushness that was once Vietnam; likewise, they show the undeniable oppression of a country divided on itself and the struggle its people went through to survive.
What Others Are Saying
"The Land Baron's Sun is a remarkable book, with both the intense, compressed, word-richness of poetry and the narrative grandeur and character complexity of a novel. It deals with the most timely and yet most universal of themes: the yearning for an identity in a world of war and strife and cultural dislocation. This is a brilliant debut by an important writer."
-Robert Olen Butler, Pulitzer prize-winning author of A Good Scent from a Strange Mountain
"With The Land Baron's Sun Genaro Kỳ Lý Smith has written nothing short of a memory opera using transcultural and geopolitical-nationalistic divides to create a language particular to this set of poems. The poems enlarge and clarify the story of what we call life on our planet, especially the stories of those who travel far from original identity only to triumph in constructions of theaters of their own making."   
-Darrell Bourque, Former Louisiana Poet Laureate, author of Megan's Guitar and Other Poems from Acadie
"The Land Baron's Sun is an elegant novel-in-verse, exploring the rise and fall and dispersal of a Vietnamese family across generations. Genaro Kỳ Lý Smith writes a remarkably evocative narrative that captivates the senses with its lyric power. Spanning the twentieth century, these poems bring the beauty, conflict, and culture of Vietnam powerfully to the reader."
-Amy Fleury, author of Beautiful Trouble, winner of the 2003 Crab Orchard First Book Award 
About the Author
Genaro Kỳ Lý Smith is Professor of Creative Writing at Louisiana Tech University. The Land Baron's Sun is based on the experiences of his grandfather, Lý Loc.
Paperback, 108 pp., ©2014
ISBN: 9781935754350