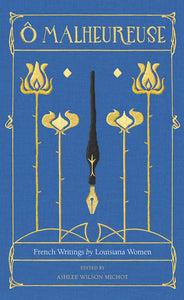 Edited by Ashlee Wilson Michot

About the book:
Ô Malheureuse is a first of its kind collection of Louisiana womens' French language writings, including song, poem, and prose. Inspired by the phrase "Ô malheureuse!" or "Oh unhappy woman," commonly found in the lyrics of traditional south Louisiana Cajun song, this collection is an intuitive and unselfconscious look at some of the women who are writing in Louisiana French now.  It is produced in an effort to provide more art and dialogue in the local language, and to bring balance to a temporary imbalance in the public voice of women in Louisiana French literature for current and future generations of Louisiana French speakers.
About the author(s):
Ashlee Wilson Michot is a Ville Platte, Louisiana, native and French teacher at Beau Chêne High School near Grand Coteau, Louisiana. She is a writer, artist, creator of the Prairie des Femmes blog (www.prairiedesfemmes.blogspot.com), and editor of Ô Malheureuse, a first of its kind collection of modern Louisiana womens' writings in French. In her free time she art journals, takes photographs, transcribes Louisiana French, and is a musician with Soul Creole. She and her husband Louis raise three sons together in the Prairie des Femmes. 
Contributors to Ô Malheureuse include: 
Juliane Mahoney, Heaven Moore, Ethel Mae Bourque, Maggie Perkins, Viola Fontenot, Gracie Babineaux, Ashlee Michot, Debbie Lagrange, Sylvia Morel, Kristi Guillory, Kelli Jones, Megan Barra, Catherine Lowe, Brenda Mounier, Melissa Bonin, Rachel Doherty, Julia Price, Sandy Hébert LaBry, Florella Vigé Inhern, Marie-Isabelle Pautz, Rachel Baum Lafferrerie, Mary Broussard Perrin, Mandy Migues, Emily Thibodeaux, Caroline Helm, Adrien Guillory-Chatman, Lisa Trahan, Jana Cheramie, Earlene Broussard, Michelle Verret Johnson, Erin Segura, Ann Savoy, Moriah Istre, Renée Rogers, Anna Laura Edmiston, Valerie Broussard Boston, Elle Angelle, Chère Amie, Louisette Leblanc, Michelle Fontenot, Kara St. Clair, Clélie Ancelet, Monique Verdin, Rachel Decuir, Leah Espinoza, Jade Boudreaux, Brooke Broussard, and Megan Brown Constantin 
More Info:
ISBN: 9781946160546
Projected Publication date: October 8, 2019
Page count: 160
Format: Softcover, with flaps