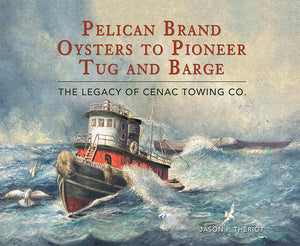 Pelican Brand Oysters to Pioneer Tug and Barge: The Legacy of Cenac Towing Co.
Jason P. Theriot
About the book:
Cenac Towing Company is one of the great American success stories in the history of the marine transportation industry. For three generations, the family-run company has been the premier towing and barge carrier for the oil and gas industry along the Gulf Coast and throughout the Mississippi River Valley. Its dedication to customer service, performance excellence, and technological advancements in tugboats, push boats, and tank barges speaks to the fundamental principles of the "Cenac Way" of doing business. This business philosophy embodies the highest standards of ethics and equipment maintenance known in the industry. These core values, established by the founders nearly a century ago, have been imbedded in the people and culture of Cenac Towing through time. This company history captures the legacy of this Louisiana-based towing company and honors the people who built it.
Praise for Pelican Brand Oysters to Pioneer Tug and Barge: The Legacy of Cenac Towing Co.: 
"This is an awesome story worth reading and worth celebrating as a vital element of the rich history of our state and its people."
–Billy Tauzin, former United States congressman

"The history of Cenac Towing Company, its formation, development, and successes, is another example of generational maritime ingenuity by a member of the Cenac family in a leadership role. Jean Pierre Cenac, our patriarch, would have been proud, as are all of his living descendants."
–Dr. Chris Cenac, author and local historian

"Because Cenac Towing is known as a trailblazer in building boats and barges, others in the business have looked to them for leadership."
–Tim Solso, retired Cummins chairman and CEO

"Jason Theriot's history of Cenac Towing explores how a family fishing business transitioned from oyster luggers in the 1920s to state-of-the-art, multi-million-dollar tugboats in the 2000s—and thrived for nearly a century in the most adverse of industries, the ever imploding, exploding oil field."
–Woody Falgoust, author of Rise of the Cajun Mariners
There are quite a few family-owned companies in the workboat industry that have been passed on from generation to generation. There are lots of stories about the families that own these companies — some of them true, some are tall tales, and some are simply falsehoods. One thing most of them have in common though is that they are almost always interesting . . . 
Read More
–
Ken Hocke,
 

WorkBoat
Senior Editor
About the author: 
Jason P. Theriot, PhD is an author, historian, and consultant who specializes in company histories. He earned a doctorate in history from the University of Houston and a degree in journalism from Louisiana State University. Additionally, he is a former Energy Policy Fellow at Harvard University's Kennedy School of Government. He is a native of south Louisiana and resides in Houston, Texas. Learn more about his work at www.jasontheriot.com.
  ISBN: 9781946160713Price: $30Page count: 200©2020 University of Louisiana at Lafayette PressFormat: Hardcover with dust jacket