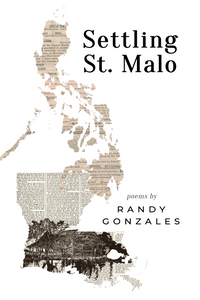 Settling St. Malo
by Randy Gonzales
Out Now!
About the Book
Settling St. Malo brings readers back to a time when Louisiana had the largest Filipino population in the United States—when Filipinos fished out of St. Malo, dried shrimp on Barataria Bay, and designed Mardi Gras floats in New Orleans. Poet Randy Gonzales explores the history of Louisiana's nineteenth- and early twentieth-century Filipino communities and his family's story of migration and assimilation through a blend of documentary and lyrical poetry. Settling St. Malo is a history of Filipino Louisiana in verse and an ode to the struggles of our immigrant ancestors, a collection of poems whose substance, language, and rhythms are informed by oral histories, diaries, letters, and government documents—poems infused with cultural and visual landscapes and driven by a poet's desire to account for a lost heritage.
About the Author
A native New Orleanian of Filipino descent, Randy Gonzales is a poet, writer, and community historian who researches and shares the stories of Filipino Louisiana. He is an associate professor of English at the University of Louisiana at Lafayette, where he holds the Dr. James Wilson/BORSF Eminent Scholar Endowed Professorship in Southern Studies. You can find out more about Filipinos in Louisiana at www.filipinola.com and more about Randy at www.randygonzales.com.
Praise for Settling St. Malo
"The poems in Settling St. Malo challenge us to rethink the American narrative in all its narrowness, to rethink poetics we are comfortable with, even complacent about. These poems pushback and respond to the presumptions of the systems that lay claim to agency of identity and history even, but they are so much more. These poems echo writers and artists like Langston Hughes, Gwendolyn Brooks, and Romare Bearden. Not unlike the poems of Natalie Diaz and Joy Harjo, these poem shift and shape the new essential story of who we truly are."—Darrell Bourque, Louisiana Poet Laureate, 2007–2011
"Randy Gonzales's compelling portrait of Filipino American community in Louisiana offers a much-needed primer on a neglected history as he works to 'restore what we can / from fragments / of cultural memory.' Whether bringing to life the bayou in a riveting extended narrative of St. Malo, the lost Manilamen fishing village on Lake Borgne, or highlighting the use and abuse of a people by documenting the denial of US citizenship to his great-grandfather who served the US government for eighteen years, Gonzales shapes an intimate and original contribution to documentary poetics."—Rebecca Morgan Frank, author of Oh You Robot Saints!
"In Settling St. Malo, Randy Gonzales brings readers on a vivid voyage of Barataria Bay and New Orleans…We dance the shrimp, taste the tears of struggle, and hear the voices of our ancestors jump, feed, and embrace us on every page. Brimming with historical research…this powerful book of poems should be required reading for anyone who wants to learn Filipino American history." —Emily P. Lawsin, co-author of Filipino Women in Detroit, and National President Emerita of the Filipino American National Historical Society (FANHS)
© 2023 Randy Gonzales
Paperback | 6" x 9" | ISBN: 9781959569039