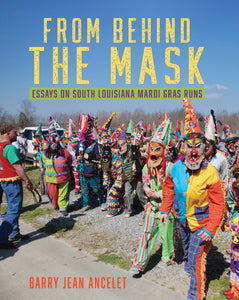 From Behind the Mask: Essays on South Louisiana Mardi Gras Runs
by Barry Jean Ancelet
Out now!
About the Book
From Behind the Mask brings together essays written over a period of more than forty years, based on Barry Jean Ancelet's observations and experiences. Ancelet explores critical elements of the traditional Mardi Gras runs of Cajun and Creole South Louisiana, including strategies for masking, costuming, begging, singing, playing, and moving through the countryside. He addresses historical issues, including the tradition's roots in European and Afro-Caribbean festivals, as well as its contemporary dynamics and ongoing evolution, including local social, cultural and political issues involving class, identity, gender and race.
Mardi Gras runs can seem at first glance to be wide-open public celebrations, but they are actually intimate expressions of community solidarity. Carnivalesque play is most effective when the players and their hosts would know each other except for the masks and costumes of the moment. Singing, dancing, intense begging, and verbal play create the improvised theater provided in exchange for contributions to the communal gathering and meal at the end of the day. Mardi Gras is an elaborate game designed to entertain and generate laughter, and because every game has its rules and masters, Mardi Gras capitaines and their deputies ride herd on the revelers to keep play from devolving into chaos. The processional nature of this ritual enables it to move through what the participants think of as their little worlds, turning everything around them into temporary props and stages and drawing observers into their improvised farces, driven by a sense of deep play that tickles power with inversions of social structures and intense interaction from behind the masks.
About the Author
Barry Jean Ancelet is professor emeritus of Francophone Studies and Center for Louisiana Studies Research Fellow at the University of Louisiana at Lafayette. He has given papers, published numerous articles and several books, and produced concerts, festivals, records, museum exhibitions, documentary films, and television and radio programs on various aspects of Louisiana French language and culture.
Praise for From Behind the Mask

"Some of this is tough, but it's all true. Barry saw us first from outside the circle, and then from inside the circle, singing and playing with us. Quite a few times, he didn't just see it. He felt it, too, lying face down tête à pieds with his brothers getting whipped."—Capitaine Thomas Deshotels
 "From Behind the Mask explores Mardi Gras traditions of south Louisiana with the hallmarks of a Barry Jean Ancelet book—the scholarly precision and curiosity, magnified by the writer's eye for the ironies and beauty in people masking, running, ritual begging and flogging, identity-switching, music and dancing across a terrain of deep memory. This is cultural writing of the first rank."—Jason Berry, City of a Million Dreams
"From Behind the Mask is the definitive and most entertaining telling of the complex and vibrant courir de Mardi Gras to date.  Barry Ancelet is a brilliant folklorist and truly gifted storyteller who shares with the reader some of the most hilarious moments of festival play and then seamlessly propels us back into the deep meaning of Mardi Gras."—Pat Mire, filmmaker 
"Everyone has heard of New Orleans Mardi Gras, but few know much about Louisiana's other great Carnival tradition. Ancelet's narratives of masking play in Cajun and Creole countrysides will attract everyone who loves Carnival's zany performances. Richly colored photographs enhance this volume's appeal, while Carl Lindahl's introduction, describing Ancelet's lifelong cultural work in his homeland, shows that this man lives up to his main principle: A folklorist's observations are always best when informed by hearty participation in the very actions being studied."—Samuel Kinser, Distinguished Research Professor Emeritus of History at Northern Illinois University
"Barry Ancelet has given us a deep, wide narrative of experiences over nearly a half century at Cajun courir des Mardi Gras throughout French south Louisiana. His account brings theoretical perspectives alongside the passionate insights of a French-speaking native. Barry does not shy from controversial aspects of the tradition in his complex discussion of black face masking—suggesting that cultural practice may struggle to adapt to new social awareness. He shares his photographic vision and is joined by longtime collaborator Carl Lindahl, who provides a meta-ethnography of Ancelet as the preeminent Cajun folklorist of his time—comfortable between work and play, local and global identities, observation and presentation, running Mardi Gras on horseback and foot as well as on the scholar's page across his homeland."—Nick Spitzer, professor of anthropology, Tulane University, host & producer of public radio's American Routes
© 2023 University of Louisiana at Lafayette Press
Softcover, Full Color | 8" x 10" | ISBN: 9781946160911