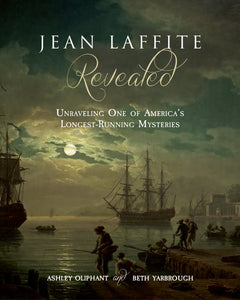 Jean Laffite Revealed: Unraveling One of America's Longest-Running Mysteries

By Ashley Oliphant and Beth Yarbrough 
About the Book
Jean Laffite Revealed: Unraveling One of America's Longest-Running Mysteries takes a fresh look at the various myths and legends surrounding one of the last great pirates. Beginning in 1805, the book traces Laffite through his rise to power as a privateer and smuggler in the Gulf, his involvement in the Battle of New Orleans, his flight to Texas, and his eventual disappearance in the waters of the Caribbean. With stunning revelations, this book picks up the trail from there—a trail that no one knew existed until now. This carefully researched work is a bona fide wild ride that will silence long-held speculation about Laffite's ultimate fate.
About the Authors

Dr. Ashley Oliphant and Beth Yarbrough are a mother-daughter research team from Lincolnton, North Carolina.
Oliphant recently retired as a full professor of English after teaching at the college level for 20 years. She is an active member of the Hemingway Society, having presented at its international conferences and published in The Hemingway Review.
Beth Yarbrough is a nationally known artist and photographer whose depictions of historic homes and structures across the South are featured on her website Southern Voice and in her extensive collection of published calendars.
Find interviews with Ashley and Beth on our Recent News and Media page.
Praise for Jean Laffite Revealed
"This book offers a deep dive into a lingering mystery in American history. Hero and villain Jean Laffite deserves—and gets—a fresh look, and the authors reveal the last hidden decades of his complicated life. They also give us a history lesson about the times and places surrounding the unfolding drama. A fascinating read!"
—Myrick Howard, president, Preservation North Carolina
"Oliphant and Yarbrough have taken their solid, scholarly, and thoroughly professional academic research and combined it with an eminently readable and compelling narrative. The reader will enjoy both the adventures of the mysterious later life of Jean Laffite and the authors' own journey of research that leads to a surprising, yet convincing, climax."
—State Senator W. Ted Alexander, North Carolina Senate District 44
"As something of a Gallic shape-shifter myself, not to mention an inveterate scallywag, I found Oliphant and Yarbrough's Jean Laffite Revealed well-nigh impossible to put down (except, of course, for obligatory flourishes with my cutlass and the odd, lusty draught of rum)."
—Bronson Pinchot, actor and voice artist
 "Reading like the best detective fiction and historical romance rolled into one, Jean Laffite Revealed is a lazy front-porch visit with old friends who have tales to tell. In an engagingly casual style, this mother-daughter team of history sleuths presents an impeccably researched, persuasive argument upending centuries-old legends and rewriting the history of one of America's most intriguingly elusive characters."
—Damon Lee Fowler, author of Essentials of Southern Cooking and Ham: A Savor the South® Cookbook
"I'm a sucker for deep dives into history that peel away the layers of legend and rumors. For anyone who has ever heard the stories of this famed pirate's exploits in New Orleans or the claims of pirate ancestry among residents of Grand Isle, this is sure to offer new insights into a historical figure who always seemed so close to our local hearts yet still shrouded in mystery."
—Benjamin Leger, 225 Magazine managing editor
"A pirate gets his due" The Current
Review in Pirates and Privateers
©2021 University of Louisiana at Lafayette Press
Paperback | 332 Pages | 6" x 9" | ISBN: 978-1-946160-72-0