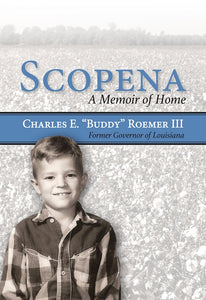 Scopena: A Memoir of Home

by Charles E. "Buddy" Roemer III

In Scopena: A Memoir of Home, former U.S. representative and Louisiana governor Buddy Roemer shares with readers his early experiences growing up on his family's cotton plantation in Bossier Parish, Louisiana. Set upon thousands of acres of land, Scopena was not only a major business but also its own community. At its heart were Roemer's parents, Budgie and Adeline, two remarkable individuals who raised a family and ran a large farming operation amidst much change. Growing up on Scopena in the 1950s and 60s, Roemer witnessed these changes—scientific, agricultural, technical, and racial revolutions—that redefined traditional farm life and which he, like his parents, embraced with idealism and optimism.

Roemer gives his readers personal reflections on the influential people and events that taught him life lessons he held on to when he left the farm in 1960, at age sixteen, to enter Harvard University, and that eventually helped shape his political career, from the U.S. House of Representatives to the Governor's Mansion, and most recently in a spirited campaign for President in 2012.

 
From the Prologue:

"Scopena is a place. . . . You can see it from Highway 71 South. . . . But the heart of Scopena—the life of Scopena, the magic of Scopena, the uniqueness of Scopena—was Mom and Dad, raising five kids under a philosophy that ignored what the rest of the world thought and that emphasized individual effort. With Dad and Mom gone, I want to tell the story of Scopena. . . ."


ISBN: 9781946160027

Softcover, 298 pp., ©2017

September 19, 2017.