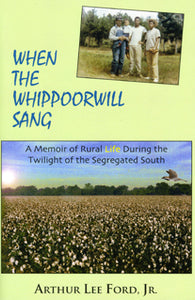 A Memoir of Rural Life during the Twilight of the Segregated South
by Arthur Lee Ford, Jr.
Arthur Lee Ford, Jr. makes the common, everyday—perhaps even mundane—aspects of southern rural life interesting and exciting in When the Whippoorwill Sang. Unlike many of the memoirs set during the era of segregation, which usually cover unique events and exceptional stories of racial conflict, Ford's story focuses on the subtle constraints imposed on all rural African Americans in the segregated South and the central dilemma that defined their lives—a bounded existence imposed on an otherwise happy individual with boundless aspirations and abilities. While burning crosses and nooses hanging from trees might more graphically convey the racism of the segregated South, it is the much more commonplace internal turmoil and emotional damage inflicted upon both white and black southerners during that era that is hardest to grasp and the most difficult to erase.
When the Whippoorwill Sang makes it clear that no episode in American history is as rigidly defined by racial lines as generally thought and even more importantly that black and white southerners probably have much more in common than anyone is comfortable admitting.
Softcover, 232 pages, ©2008
ISBN: 9781887366847