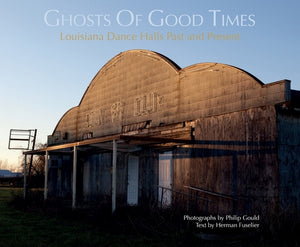 Ghosts of Good Times: Louisiana Dance Halls Past and Present
by Herman Fuselier and Philip Gould
Ghosts of Good Times: South Louisiana Dance Halls Past and Present examines a world of Cajun dance halls, Zydeco clubs, Chitlin' Circuit R&B night clubs, Swamp-Pop Honkytonks and other venues that at one time were prevalent throughout the region. Photographs by Philip Gould blend architectural imagery of buildings still standing with historic photographs of the clubs that he took in their heyday. Herman Fuselier and other writers provide a rich selection of historic accounts and essays about their personal experiences in the clubs.
The book also examines the dance hall scene today and how the venues have changed. The music following remains strong and people still come to dance. The surviving old dance halls and newer venues are still in full swing. Old or new, they are icons, a proud south Louisiana legacy of Good Times.
Philip Gould is a cultural documentary and architecture photographer who has made Louisiana his home and favorite subject since moving to the state from California in 1974. Based in Lafayette, Gould has photographed throughout the state, the nation, Europe and the Caribbean. His work has been published in over a dozen books on subjects ranging from Cajun culture, Emeril Lagasse, A. Hays Town, Robert Dafford to French Train Stations. Gould's images have also been published in periodicals around the world. His images constitute one of the largest privately held contemporary photographic archives on Louisiana.
Herman Fuselier, a native of Opelousas, La., has covered the Louisiana music scene for more than twenty-five years. He is the music and entertainment writer for the Daily Advertiser and Times of Acadiana in Lafayette, La. As a freelance writer, Fuselier has contributed features to Offbeat Magazine of New Orleans, Oxford American, Living Blues, and other national publications. He's written CD liner notes for Lil' Nate, Leon Chavis, Nathan & the Zydeco Cha Chas, Beau Jocque, Jeffery Broussard, and the World Music Network of Australia. He has been interviewed for cultural stories done by NPR, The Wall Street Journal, The Philadelphia Inquirer, and more.
ISBN: 9781935754855
Softcover, 232 pp., ©2016
Release date: October 18, 2016