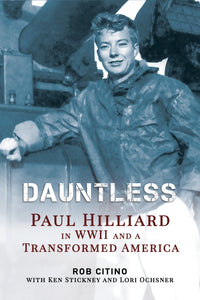 Dauntless: Paul Hilliard in WWII and a Transformed America
by Rob Citino with Ken Stickney and Lori Ochsner
Out now! 

About the Book
Dauntless is the story of Clayton Paul Hilliard, a poor farm boy from Wisconsin who enlisted in the US Marine Corps as a teenager, served in the Pacific theater as an aviator, and returned to attend university on the GI Bill. His education was a springboard into a very successful career as an entrepreneur, independent oil man, and industry leader. Always looking for ways to give back, he also became a philanthropist and generous donor to educational and cultural institutions in the city of Lafayette and throughout southern Louisiana.
Paul's story highlights some of the most fascinating decades in American history: the impact of World War II, the importance of post-war social and economic changes, and the development of the oil industry from the 1950s to today. In short, Dauntless is as much a history of the United States in the twentieth century as it is a personal biography of an influential leader in Louisiana and beyond.
About the Author
Robert M. Citino is the Samuel Zemurray Stone Senior Historian at the National World War II Museum and one of America's most distinguished military historians. His award-winning books include Blitzkrieg to Desert Storm, The German Way of War, and a trilogy on the German army in World War II. He holds the Samuel Eliot Morison Prize from the Society for Military History, a lifetime achievement award and the highest recognition bestowed by the society.
Praise for Dauntless
"Finally, a stirring, historically accurate account of a young Marine air gunner who fought with uncommon courage in one of the most perilous air fronts of the war. It's a compelling personal story of the astounding Paul Hilliard, who has led a fabled life both in and out of war. Beautifully rendered by Rob Citino, one of our finest historians, and a must-read for any student of the War in the Pacific. Brilliant!"—Donald L. Miller, author of Masters of the Air
"Dauntless is a page turner—a story of a great man who calls on us all 'to learn more, do more, and give more.' I'm proud to have known Paul and worked with him. A must read."—Nick Mueller, president and CEO emeritus of the National WWII Museum
"Rob Citino tells the wonderful story of Paul Hilliard in a very captivating way, from a small farm in Wisconsin to serving in WWII, pursuing a law degree through the GI Bill, building his own successful independent energy business, then generously giving back to his country and community. With his sharp wit and humor, Paul continues to be an inspiration to many. It is a great American story!"—Former California Governor Pete Wilson
"Dauntless beautifully captures the story of one of the most incredible Americans I've had the honor to know. You can't help but be inspired by Paul Hilliard's journey from his hometown in rural Wisconsin to his forty-five combat mission flights in the Pacific to his successful business career in Louisiana's oil and gas industry to his leadership at the National WWII Museum. Readers will be charmed by Paul's determination, generous spirit, love for history and family, and quick wit."—Stephen Watson, president and CEO, The National WWII Museum
"A true tale of courage in time of war, individual self-determination in time of peace, tenacity in a time of economic uncertainty, and a lifetime of selfless actions aimed at improving the lives of others, Paul Hilliard's life story is, at its very essence, the story of the American Spirit—the same spirit that bound a nation together to defeat global tyranny and win the war that changed the world."—Ted Weggeland, Chairman, Board of Trustees, The National WWII Museum
"This fast-paced and very shrewd biography traces the life story of Paul Hilliard, a man who packed multiple lives into one span. At one level this is a classic, utterly inspiring story of a member of the generation that fought World War II. But this volume's highest achievement is to vividly portray Paul's personality with its incredible determination, his bottomless wit, and his astonishing modesty. If you want your faith in ordinary Americans bolstered, this is for you."—Richard B. Frank, author of Tower of Skulls A History of the Asia-Pacific War: July 1937-May 1942
"Dauntless is a compelling narrative tracing Paul Hilliard's life experiences during the Great Depression, from farm life in Wisconsin's Dust Bowl to his distinguished service as a Marine in World War II, his education through law school, and a long and successful business in the oil fields. Paul's lifelong philanthropy and his passion for education and the lessons of WWII make him an inspiration. His life is the Horatio Alger story. He is, and always be, one of my heroes."—Boysie Bollinger
© 2023 Badger Excellence in Education Foundation
Hardcover with Dustjacket | 6" x 9" | ISBN: 9781959569022