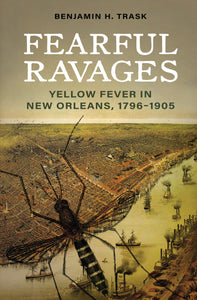 Yellow Fever in New Orleans, 1796-1905
by Benjamin Trask
Now back in print, with a brand new cover!
New Orleans is one of the premier vacation destinations in the United States. Just a walk through the French Quarter can make the trip worthwhile. For those who cannot make the journey, the flavor and sounds of Louisiana travel well. The ambiance of the Big Easy has become so dominant that multicultural food and music festivals inspired by the people of the Pelican State thrive across the globe. Even Mardi Gras has scores of imitators. 
Unfortunately, not all impressions of the Crescent City have been so inviting. In the nineteenth century, New Orleans was stigmatized by an extremely high mortality rate. One of the major causes of this frightening annual death toll was yellow fever. The sporadic arrival of fever caused tens of thousands of citizens to flee; while at the same time, anxious neighbors in nearby towns tracked the fever's movement. The severity of yellow fever epidemics was erratic and puzzled physicians. In some years, thousands of people perished; at other times, only a handful died. This ghastly phenomenon appeared in the summer and remained until late autumn and marked New Orleans as a dangerous place. For decades the laymen in New Orleans determined the first frost was the sign that the fever was quickly fading, and for that reason, residents hoped and prayed for this meteorological blessing.
In the 1800s, the people of New Orleans experienced tremendous commercial growth, wars, demographic changes, Reconstruction, depression, and corruption. Through all these happenings, the threat of yellow fever influenced how decisions were made. The scope of this brief study provides an overview of the epidemics in New Orleans from 1796 until 1905 within their social, ethnic, medical, military, and economic context. In conjunction with this overview, the city's leadership role in the modern public health movement and a retelling of how the humanitarians of Louisiana applied their fever expertise to relieve stricken citizens of other states are also explored.
Softcover, 178 pages, ©2005
ISBN: 9781887366649