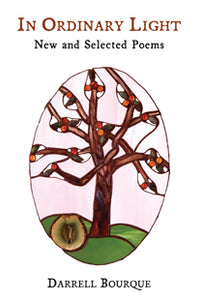 New and Selected Poems
by Darrell Bourque
In Ordinary Light: New and Selected Poems is a compilation of poems written by Darrell Bourque, Louisiana's Poet Laureate, over the last forty years. It includes selected poems from all the previously published volumes, all the poems from The Blue Boat, and all the poems written by Bourque from Call and Response: Conversations in Verse (written with Jack B. Bedell).
"For Darrell Bourque a poem is a communion with a moment, a conversation with life, a commemoration of meaning. If in the beginning there was the word, for Darrell Bourque the word is a beginning, his tool for shaping, defining, and consecrating the ordinary fragments of life and living into a sacred text of elevated worth. His poems are revelations of the divine and numinous in the seemingly mundane. No moment in a life is immune to his illumination, his poetry a balm and an antidote to the fragmentation of modernity."
—Michael Sartisky, PhD, President, Louisiana Endowment for the Humanities 
"This abundant and affecting collection of Darrell Bourque's poetry proves beyond doubt that he is one of America's preeminent poets of both the physical and the spiritual world. Whether the subject is feeding an opossum, meditating on a garden, or finding new entrances into the work of artists like Cezanne and Vermeer, Bourque's poems shine a light on the world that is anything but ordinary. The collection represents a wealth of thematic and formal experimentation, ranging from plentiful ekphrastic pieces to personal meditations on family; from exquisite gem-like poems inspired by Issa or Basho to narrative lyrics set in the Louisiana landscape, and more expansive poems set in far flung corners of the world. Seeing all these pieces gathered together reveals that Bourque has always written, finally, about light, which is, for Bourque, love. Hold on tight when you read these poems: like his beloved four o'clocks, they spin 'like holiness' from every direction."
—Sheryl St. Germain, Director, MFA in Creative Writing, Chatham University
"For 50 years, I have watched the efforts of fellow poets throughout the nation as they engage with the public in various ways, such as reading, talking about, and teaching the writing of poetry in the schools [and] Darrell Bourque is by far the most energetic, industrious and far-reaching."
—David Madden, Author and Robert Penn Warren Professor Emeritus of Creative Writing, LSU  
"At a time when so much poetry published might be crafted but empty, poetry lovers will find much to enjoy in Darrell Bourque's new and selected poems, In Ordinary Light. Here is craft with heart and life, where classical forms marry consciousness, family, art, days rendered artfully. Bourque's metaphors paint and measure heat and light; here, southern-ness and memory spill over page to page. Each Bourque poem is more and new, sacred and lush like the landscapes we meet lingering en francais or translated for us to revisit and retaste. Darrell Bourque's poems are afternoons we can wear, a grammar of poetics where images dance to his music, where other poets visit and inspire like angels.  We meet in these poems in courtyards or gardens; and like mother, daughter, or wife, Darrell Bourque's poems embrace us too.
—Dr. Mona Lisa Saloy, Author & Folklorist, Dillard University, New Orleans
About the Author
Darrell Bourque is Professor Emeritus of English and Interdisciplinary Humanities at the University of Louisiana at Lafayette. He is a former Louisiana Poet Laureate. His books include Plainsongs, The Doors Between Us, Burnt Water Suite, The Blue Boat, Call and Response: Conversations in Verse (with Jack B. Bedell), In Ordinary Light, Holding the Notes, and migraré (with artist Bill Gingles). He lives in rural St. Landry Parish with his wife, Karen, a glass artist.
Softcover, 242 pages, ©2010
ISBN: 9781935754015