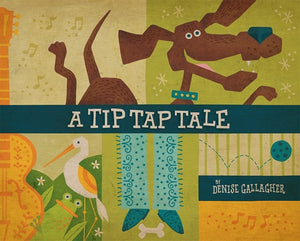 A Tip Tap Tale
Written and illustrated by Denise Gallagher

BouZou, a singing, guitar playing hound dog is happy at home in his Louisiana swamp performing for the mudbugs and bullfrogs and stars above. When a cat named Slick Jim Jack shows up and entices BouZou to perform in the big city of New Aw-Leens, he can't resist the tales of a gold guitar, t-bone steaks, and endless rubber balls. This Tip Tap Tale follows BouZou and Slick Jim Jack as they amble along, howling and singing a hound dog song with a triple twist and turn about—performing for the cheering, adoring crowds in New Aw-Leens. But an unshakable nemesis could spell trouble for BouZou and his newfound fame. Be-bop along with the colorful characters and lyrical language that make A Tip Tap Tale a fun-to-read romp through the swamps and big city of a jazzy Louisiana landscape.
About the Author

Denise Gallagher is a graphic designer and artist whose works pull from her rich imagination and the inspiration of her Louisiana home. Denise has received awards from the Society of Illustrators New York, the Society of Illustrators Los Angeles, Communication Arts Magazine, and the Society of Children's Book Writers and Illustrators, and her work has been displayed in museums across the country. She currently is happily residing in a little patch of sun in Lafayette, Louisiana, with her loving husband, two sons, and a couple of lazy hound dogs.

Hardcover with dust jacket, 36 pp., ©2017
ISBN: 9781946160096

October 24, 2017.