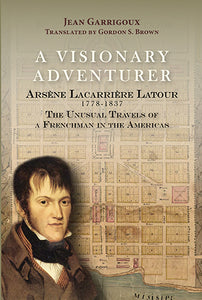 A Visionary Adventurer: Arsène Lacarrière Latour 1778-1837, the Unusual Travels of a Frenchman in the Americas

by Jean Garrigoux, translated by Gordon S. Brown

"A nineteenth-century Renaissance man—[Latour] was an architect, a military engineer, a soldier, a historian, and an agent provocateur who represented the type of adventurer who flocked to Louisiana during the early nineteenth century."

–Gene Allen Smith, professor of history, Texas Christian University

The public records of Arsène Lacarrière Latour give no indication of the remarkable life story of the private person, whose roles as architect, engineer-geographer, and political observer went well beyond his activity as a principal actor and the first historian of the Battle of New Orleans.

The biography that Jean Garrigoux has devoted to Latour carefully spells out, thanks to the best available French, American, Cuban, Spanish, and Mexican sources, the various stages of a life full of passions and intrigues in the service of the United States and the Spanish Crown in the New World. The author brings the reader into the dangerous projects of France's Napoleonic émigrés, Caribbean pirates, and the secret agents with whom this magistrate's son—trying to improve his condition while escaping the humdrum—was deeply involved.
About the Author and Translator

Jean Garrigoux was born in Aurillac, France, a hundred and fifty years after Arsène Lacarrière Latour. He studied at the town's high school and at law school in Paris before leaving to try his luck in the Americas, just like his hero. A career as the export director of a large French industrial firm allowed him to travel widely. Beginning in 1989, he could finally devote a significant amount of time to researching the life of this little-recognized compatriot, whose story he had discovered by accident—or perhaps through fate.

Author and retired diplomat Gordon Brown's books include Latin American Rebels and the United States, 1806-1822; Toussaint's Clause: The Founding Fathers and The Haitian Revolution; two books about personalities of early Washington D.C.: The Captain Who Burned his Ships, and Incidental Architect; and The Norman Invasion of Southern Italy and Sicily. During a thirty-five-year career in the U.S. Foreign Service he was Ambassador to Mauritania, 1991-94, Political Advisor to General Norman Schwarzkopf during the First Gulf War, and Director of Arab Gulf Affairs in the State Department.

Previously published in French (1997)

Softcover, 350 pp., © 2017
Release date: April 25, 2017