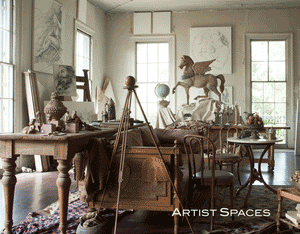 Artist Spaces
by Tina Freeman; text by Morgan Molthrop
Few artists have the luxury of separate work and living spaces, thus work and life often end up compressed into a singular personal environment. Artist Spaces, New Orleans provides a comprehensive portrait of the city's artists and their relationship to space.  

In more than one hundred extraordinary photos taken by Tina Freeman and more than a dozen artist interviews by Morgan Molthrop, Artist Spaces, New Orleans highlights the spaces of New Orleans art luminaries George Dureau, Ron Bechet, Ma-Po, Dawn Dedeaux, Elizabeth Shannon, Willie Birch, Ersy, David Halliday, Robert Tannen, Elenora "Rukiya" Brown, Nicole Charbonnet, Kevin Kline, Amy Weiskopf, Keith Duncan, Josephine Sacabo, Lin Emery, and graffiti artist "Fat Boy."

The interviews and photos provide a perfect complement. While Freeman poetically captures an intensely personal vision of the artists and their spaces, Molthrop unearths what the most accomplished artists in the city have to say about their relationship to that space. What results is an indication that each artist's style is often reflected in the quality, character, and aesthetic of their living/working environments--a striking illustration of how deeply personal, all-encompassing, and interconnected are life and art.
Hardcover, 136 pp., ©2014
ISBN: 9781935754473