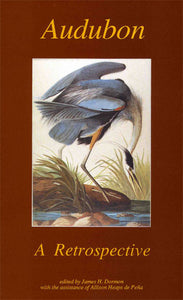 Audubon - A Retrospective
by James Dorman and Allison Pena
Audubon: A Retrospective, a collection of essays written to mark the bicentennial of the artist's birth, is a welcome addition to the existing body of literature on John James Audubon. Written by noted authorities on American history, art history, American literature, contemporary ornithology, and the mechanics of nineteenth century art reproduction, these essays examine the most important aspects of Audubon's artistic career: 

James H. Dormon provides an overview of Audubon's life in "Audubon: The Man and His Milieu." Carolyn E. De Latte investigates the hardships endured by Lucy Audubon and her often overlooked contributions to her husband's success as an artist and as an ornithologist. Audubon's artistic ability matured during the Louisiana phase of his career, a development examined by Kathryn Hall Proby. Gloria K. Fiero assesses the purely artistic merits of Audubon's work, while Lois E. Bannon recounts the manner in which "The Audubon Prints" were manufactured and distributed. Barbara Cicardo evaluates Audubon's significance as an early American writer in "From Palette to Pen: Audubon the Writer." Finally, John P. O'Neill contrasts his own experiences as an artist ornithologist with those of Audubon in "Studying and Painting Birds: Audubon's Time Versus Today." 

These essays provide the best available introduction to the life and times of John James Audubon.
Hardcover, 102 pages, ©1990
ISBN: 0940984539