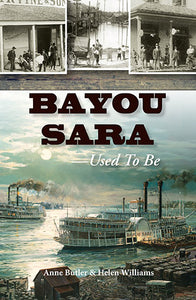 Bayou Sara—Used to Be
by Anne Butler and Helen Williams
There's nothing there now but a bunch of weeping willows, but in the nineteenth century, below the St. Francisville bluff was one of the most important ports on the Mississippi River. Bayou Sara had a mile of cotton warehouses, plus extensive residential and commercial districts. Who were the hardworking immigrants who settled there, why did they come and from where, and why did they stay through floods and fires and wartime shelling for more than a century? This book answers some of those questions for the first time, with fascinating collections of early images and excerpts from memoirs, journals, and newspaper dispatches that shed some light on this intriguing ghost town.

Anne Butler is the author of more than twenty books and hundreds of newspaper and magazine articles. She has written everything from true crime and children's stories to humor and travel guides, but her passion is the preservation of regional history and culture. She lives in one of West Feliciana's most historic plantation homes, which has been in her family since the late 1700s.

Helen Williams has been the director of the West Feliciana Historical Society museum for nearly twenty years, where she has been responsible for preserving the society's collection of historic images and documents, having inherited her passion for history from her mother who also worked there. Born in St. Francisville, she has vivid memories of the early days and previous generations, which she loves to share with visitors.

ISBN: 978-1-946160-00-3
Softcover, 156 pp., © 2017

Publication date: May 23, 2017