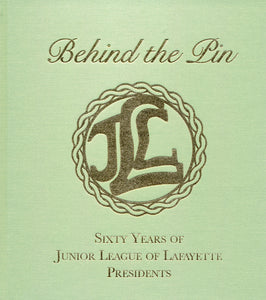 Behind the Pin: Sixty Years of Junior League of Lafayette Presidents
by Miriam Doherty Bourgeois and Anne Sonnier Calhoun
NEW RELEASE
About Behind the Pin: Sixty Years of Junior League of Lafayette Presidents
Junior League of Lafayette originated in 1957 with seventeen women who were committed to voluntarism. The group quickly evolved into one of the most respected nonprofits in Lafayette.
This book chronicles the lives and activities of the first 60 League presidents with a focus on personal and historical accounts during the growth of the organization.
Throughout its history, Junior League Presidents have been honored for their dedication with tokens of appreciation (a crystal bowl, silver platter, or an engraved bracelet) at the close of their one-year tenure. Since 1988, a custom-made pin designed by P.J. Naomi of Paul's Jewelry, has been donated to each president as she begins her leadership journey. The silver and 14-karat gold pin is a one-of-a-kind work of art, worn proudly by the bold women who volunteer, train, and are nominated to become leaders of the Junior League of Lafayette.
Readers of Behind the Pin will understand the accomplishments and, in some cases, the challenges that these women encountered in their roles as leaders and liaisons in their community. Their hard work and collaboration with the community has resulted in organizations like Family Tree, Volunteer Center, Healing House, museums, and art associated groups. The pin stands tall as a symbol of the dedication and camaraderie that these women share.
About the Authors

Miriam Bourgeois is a native of Opelousas, Louisiana and longtime resident of Lafayette, Louisiana. She is known as a community activist and philanthropist and has served on many nonprofit boards and executive positions including 33rd President of the Junior League of Lafayette. She enjoys spending time with family and friends, writing, traveling and cooking a good chicken and sausage gumbo. Miriam is married to Richard Bourgeois and they have two daughters and three grandchildren. 
Anne Sonnier Calhoun served the Junior League of Lafayette as its twenty-second president. She credits the league with developing many of the leadership skills which she utilized throughout her volunteer career. Once her league active years were over, she put to work much of what she had learned with a variety of organizations in her beloved community. Anne treasures her time spent with family and friends, loves a good sense of humor, and places high priority on her spiritual endeavors. Anne and David have traveled extensively throughout their marriage and she is always up for a beach trip or a football game! Several years ago she wrote a two volume cookbook for her daughters and granddaughters in the hope that they would learn to love cooking as much as she does.
174 pages|Hardcover|ISBN: 9781946160683