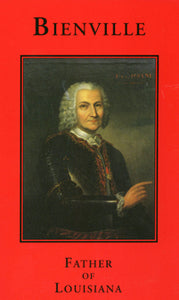 Father of Louisiana
by Philomena Hauck
Like the Mississippi River, Jean-Baptiste Le Moyne de Bienville's career had many unexpected twists and turns. He came to Louisiana as Pierre Le Moyne d'Iberville's faithful lieutenant, adventurous and resourceful to be sure, but a lieutenant nonetheless, whose function it was to carry out the policies of his older brother. Iberville's untimely illness and eventual death changed everything. Catapulted into a leadership role at the age of 22, Bienville performed prodigies to state off attacks and avert the total collapse of the infant colony. Year in year out, he held off the encroaching English, kept a wary eye on his jealous Spanish neighbors, patched and repatched his network of Indian alliances, borrowed food from Pensacola in times of hunger, and juggled funds around to make ends meet.
Yet instead of receiving the rewards he believed to be his due, he incurred the wrath of the home government. With the appointment of Governor de Muy, he was shuffled to the sidelines for good, or so it was intended. But de Muy's death and the ineptitude of two succeeding governors, Cadillac and Lepinay, again thrust him on center stage until he eventually became commandant general in name as well as in fact after nineteen years of continuous service. Swept out of office seven years later as a result of disorders surrounding Law's efforts at colonization, he was consigned to seven years of obscurity in France before being called back to rescue an imperiled colony. But he could not work miracles. Worn out with his exertions, he no longer had the vigor and optimism characteristic of his earlier career. At the age of sixty-two, he was ready to hand over the reins to a younger man.
Bienville: Father of Louisiana is a biographical look at Bienville's life from his beginnings in Canada, through his first administration, to his years in France, his return and the Second Chickasaw War, and into his retirement and last years.
Softcover, 162 pages, ©1998
ISBN: 9781887366250