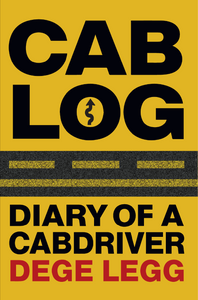 Cablog: Diary of a Cabdriver

by Dege Legg
Audiobook Now Available!
Nook
Google Play
Apple

Buy the Soundtrack—Written and performed by Brother Dege especially for the audiobook!

About the Book
A broke and unemployed musician lands a gig driving a cab through the swamplands of south Louisiana while bobbing and weaving through a nighttime world ruled by drugs, guns, saints, and strippers. In this fuel-injected work of creative nonfiction, Grammy-nominated musician and award-winning writer Dege Legg—aka Brother Dege—recounts five years behind the wheel while documenting the underworld of Lafayette and its Cajun and Creole hinterlands. From the penthouse suites on high to the crack houses on the low, Legg churns out thick-skinned tales about downtrodden derelicts, minor victories for the forgotten, and redemption in the face of it all. Cablog reverberates with tones of Bukowski, Miller, Chandler, and Kerouac while charting its own new territory of the human spirit.
About the Author
Dege Legg is a Grammy-nominated musician (Django Unchained, original soundtrack) and award-winning writer born and raised in southern Louisiana. In addition to driving a cab, he has a BA in philosophy and has worked as a dishwasher, journalist, manual laborer, warehouseman, mechanic, driver, line cook, and a caseworker in a homeless shelter in order to support his artistic compulsions. He writes music, records, and tours the USA and Europe with his band Brother Dege & The Brethren. Visit him at brotherdege.net 
Praise

"Brother Dege is a far-out dude." — Quentin Tarantino
"While you slept through the night, Dege Legg was taking notes and writing as if his life depended on it. Cablog is his gritty and lionhearted tour of the streets of south Louisiana. With a keen eye and a sharp tongue, these visceral and vivid transmissions teem with humor, horror, heart, and humanity." —R. Reese Fuller, author of Angola to Zydeco: Louisiana Lives
"A living poetry coming from hard-learned experiences and daily trials. Cablog would have been an excellent compilation of anecdotes, but it's much more than that thanks to this writing style both realist and poetic that gives it depth and broadens its scope, echoing with the best of modern American literature."—Dennis Crowch, Blasting Days Review
"Brother Dege is one of the best-kept secrets in the Deep South." — Uncut magazine
"A southern diamond in the rough." — Americana UK
"… puts the reader on the cab's dashboard like a GoPro, providing a safe distance to observe the interactions between the driver and some characters you'd probably rather not encounter. While Legg's tales are mostly a look at the seedy side of life that are sometimes tense and sadder than sad, there are humorous and enlightening encounters, too, and interspersed throughout is warm and insightful prose. Cablog will give you pause as at it brings the hidden, dark reality of the forgotten people of the night into the light of day." —Dominick Cross, Bayou Hack Press review
"Legg has a knack for telling these stories in short, on-the-head entries certain to captivate both obsessive literary hounds and non-readers alike." —William Archambeault, Antigravity magazine review
Offbeat Magazine: "CabLog: Diary Of A (Musical) Cabdriver"
WWOZ interview; interview begins at 75:30
Largehearted Boy: Dege Legg's playlist for CABLOG
The Advocate on Dege Legg and CABLOG
Chapter One Podcast: Ep. 82—Cablog by Dege Legg
Book Trailer
Excerpt Video - WARNING: EXPLICIT CONTENT
©2020 University of Louisiana at Lafayette Press
Paperback | 233 Pages | 6" x 9" | ISBN: 9781946160706