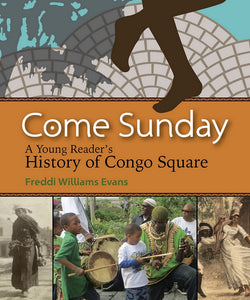 Come Sunday: A Young Reader's History of Congo Square
by Freddi Williams Evans
Come Sunday is an image-driven book for middle grade students that provides culturally relevant content and parallel histories of Congo Square and New Orleans; historical background on present-day cultural practices; and over one hundred images and primary documents that promote critical thinking.
Like windows into the past, these primary documents and images allow readers to get as close as possible to what life was like during the time of the gatherings in Congo Square. The photographs, newspaper ads, city ordinances, eye-witness reports, rhythmic patterns, and song lyrics enable readers to analyze, compare, and think critically about the information presented. This process develops a deeper understanding of the people and events that shaped the history of New Orleans's Congo Square. This book supports standards and benchmarks in social studies and language arts, and it invites discussions, cross curriculum instruction, and extended learning opportunities.
Freddi Williams Evans is an independent scholar and the author of Congo Square: African Roots in New Orleans, the first comprehensive study of the historic landmark and the recipient of the Louisiana Endowment for the Humanities' 2012 Book of the Year Award.  Her research and advocacy influenced the 2011 New Orleans City Council ordinance that made the name "Congo Square" the official name of the location.
ISBN: 9781946160102
Softcover, 150 pp., ©2017
Release Date: October 31, 2017.