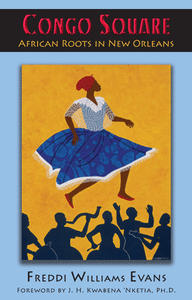 African Roots in New Orleans
by Freddi Williams Evans; Foreword by J.H. Kwabena 'Nketia, Ph.D.
Congo Square: African Roots in New Orleans comprises the first comprehensive study of one of the New World's most sacred sites of African American memory and community. Beginning in the eighteenth century, enslaved Africans and free people of color gathered in Congo Square on Sunday afternoons discontinuously for well over one hundred years. This book presents accounts and descriptions of the songs, dances, musical instruments, religious beliefs, and marketing traditions that typified those gatherings. Also included are examples of similar practices that existed in Haiti, Cuba, and other parts of the West Indies, reflecting New Orleans' relationship with Caribbean countries and shedding light on Congo Square's role in extending and perpetuating African music and dance in North America. The amalgamation of those practices influenced indigenous New Orleans performance styles as well performance forms on the national level.
Written in a language accessible to the general public and students on the undergraduate as well as secondary level, this book includes an innovative timeline, maps, graphic images, extensive endnotes, and bibliographic references. This distinguishes it as an exceptional teaching resource for Louisiana as well as African American history and culture across the curriculum.
"The bloodlines of all important modern American music can be traced to Congo Square. Freddi Evans' book is the defining history of this national landmark."
--Wynton Marsalis, Artistic Director, Jazz at Lincoln Center
"While drumming in Congo Square and forming the Congo Square Foundation in 1989. I met a brilliant writer, historian and musician named Freddi Evans.  I have had the pleasure of witnessing her patiently and thoroughly research the history of Congo Square in New Orleans.  She has spent over 15 years uncovering the rich and deep history of this sacred place. This book traces the African and Caribbean rhythms, dances, and customs that were performed in Congo Square over the last 250 years and follows their evolution to contemporary New Orleans and American cultural practices. As a result of her perseverance and scholarly research, Freddi Evans has written the definitive work on Congo Square!"
--Luther Gray, Congo Square Foundation, Bamboula 2000
"A truly outstanding, original book. It is well conceived, impressively interpreted, exhaustively researched, beautifully and clearly written. It is by far the best work on this fascinating subject."
--Gwe­ndolyn Midlo Hall, author of African in Colonial Louisiana
"Freddie Evans' work is a masterpiece. Her tireless research has finally answered a lot of questions and addressed many issues regarding Congo Square and New Orleans history. This book should be of great value to researchers, writers, historians, musicians, dancers, artists, and anyone interested in the unique culture and traditions of the Crescent City. Personally, she has brought me miles closer to an historical and spiritual connection with the musical heritage of my ancestors. It allows me to view all of jazz history, social club parades, jazz funerals and every jazz performance in another light."
--Dr. Michael White
 "Congo Square is iconic in African American cultural history. The music and dance of the gathering place transformed the art forms of this country while the commerce evidenced entrepreneurial skills that are still untapped. In Congo Square, her exhaustive study of the square, scholar Freddi Williams Evans deftly presents the fascinating history and development of the hallowed New Orleans gathering place."
--Jessica B. Harris, Ph.D, author of High on the Hog: A Culinary Journey from  Africa to America
"Congo Square:  African Roots in New Orleans is  rich and wonderful. The author sheds light on the important site of Africanizing happening in North America.    Want to witness strong precedents for handclapping circles surrounding poets of the street--early Brooklyn rap--this is your book. For Freddi Evans establishes  that Congo Square is not only a place but a state of mind where defiant African descendants kept dignity and spirit alive. There are insights galore but I ain't telling you more. You have to buy this book. Find out."
--Robert Farris Thompson, author of Tango: The Art History of Love and Aesthetic of the Cool
"It is always good for us, as Africans, to see what we call 'survivals,' for lack of a better word, because they are indications of African culture as it was—its distinct characteristics. When you have that reinforced after many years of exodus, it means that there is something in the culture that can survive in spite of the changes taking place and it brings into our consciousness the importance of making sure that what we have continues and forms the basis of the new culture. Congo Square is evidence of what happened."
--J. H. Kwabena 'NKetia, Ph.D., Professor Emeritus, Univ. of Ghana, Legon-Accra
About the Author
Freddi Williams Evans is an alumna of Tougaloo College, Tougaloo, Mississippi, where, as a music major, she began studying traditional African music on a study-travel to the University of Ghana at Accra. Evans is the award-winning author of three historically-based children's books: A Bus of Our Own (2001), The Battle of New Orleans: the Drummer's Story (2005), and Hush Harbor:Praying in Secret (2008). Her writings for general audiences have appeared in local newspapers, as well as several compilations and anthologies including The Storytelling Classroom: Applications Across the Curriculum (2006) and Kente Cloth: Southwest Voices of the African Diaspora (1998).
Evans has presented on Congo Square at schools, museums, and festivals and her essay "New Orleans' Congo Square: A Cultural Landmark" will appear in Ancestors of Congo Square: African Art in the New Orleans Museum of Art (2011). Her research on Congo Square has taken her to numerous archives, local and national, and back to West Africa. Evans resides in New Orleans and works as an arts educator and administrator as well as an independent scholar.
Softcover, 224 pages, ©2011
ISBN: 9781935754039