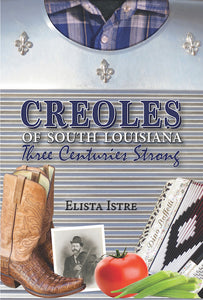 Creoles of South Louisiana: Three Centuries Strong
by Elista Istre
Creoles established themselves in South Louisiana long before Acadian exiles reached the shores of the Bayou State. Boasting a mélange of African, European, and North American roots, Creoles converged on Louisiana's prairies and created their own distinct cuisine, language, and musical style.
In Creoles of South Louisiana: Three Centuries Strong, Dr. Elista Istre invites her readers to enter the Creole world—a place where cooks tempt taste buds with gumbo and crawfish, storytellers mesmerize young and old with tales tied to three continents, and musicians and dancers pulsate to the rhythms of accordions and rubboards.
Despite inside pressure to isolate and outside pressure to assimilate, Creoles from all walks of life continue to forge new identities while preserving and celebrating traditional elements of their rich heritage. They are adaptable. They are resilient. They are strong.
Advance Praise:
"The word 'Creole' is unquestionably the most misunderstood term in the Southern lexicon. In this erudite tour de force, Elista Istre provides insiders and outsiders an easily digestible, yet authoritative guide to the history and culture of a community that perhaps best exemplifies the American melting pot."--Carl Brasseaux, author of more than twenty books on Louisiana history and culture

"Dr. Istre illuminates the various shades of Creole, but shines a bright light on the generations, stuck between the Atchafalaya River and the southeast Texas border, that have shared their Zydeco, cuisine, faith, and family values with the world."--Herman Fuselier, Lafayette Daily Advertiser
"Creoles of South Louisiana: Three Centuries Strong is a comprehensive treatment of African American Creoles in Southwest Louisiana. Too long they have been ignored, misidentified, or misunderstood. No more!  Elista Istre clarifies their identity and examines distinctive aspects of their cuisine, oral tradition, and music. Richly illustrated and engagingly written, Istre advances this study beyond culture, folklore, history, and identity by providing a fascinating and illuminating analysis of a vibrant and evolving contemporary Creole heritage."--Dr. Brady Banta, Professor of History and Archivist, Arkansas State University
"Writing about a culture as complex, interwoven, and sensitive as the Creole culture is a massive undertaking. In this book, Dr. Istre captures much of the nuance, history, pride, and preservation of this culture and tells the story of a people born by Louisiana herself."—Tracey Colson Antee, former community liaison and presenter for the Creole Heritage Center at Northwestern State University and founder of GumboLife
"Don't think for a minute that just drinking the muddy Louisiana water will determine whether you're a Cajun or a Creole. The tale of two families starts with knowing where these people came from. Our Louisiana heritage is explained to us in this insightful book, and I applaud Dr. Istre for sharing this precious part of history."—Chubby Carrier, Grammy award-winning Zydeco artist   
Dr. Elista Istre, a native and lifelong resident of Lafayette, Louisiana, is a historian dedicated to advancing the field of cultural heritage at home and abroad. A descendant of Cajuns, French Creoles, and Spanish Isleños, Istre has been sharing her region's diverse heritage with academic and public audiences for over twenty years through engaging lectures, informative publications, and hands-on history programs.
ISBN: 978-1-946160-19-5
Publication date: May 8, 2018.

Softcover, 342 pp., ©2018