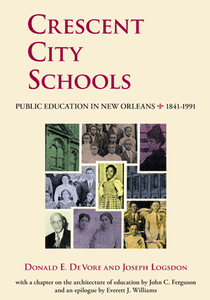 Public Education in New Orleans, 1841-1991
by Donald E. DeVore and Joseph Logsdon
with a chapter on the architecture of education by John C. Ferguson and an epilogue by Everett J. Williams
In 1841 New Orleans opened its public schools with the personal assistance of Horace Mann, the early champion of public education in the United States. Those first schools launched public schooling not only in the Crescent City but throughout Louisiana and much of the Deep South. At the time, New Orleans was the only large city of the slave South in a majority black state. The problems of race are, as a result, deeply rooted in its public schools. Longer than any other urban school system, the Crescent City's public schools have faced the challenge of racial equity. During the Civil War, the Union generals who governed New Orleans began the first system of public schooling for black children in the South. When the war ended, black and white visionaries framed a new state government that brought even more revolutionary change to public education.
Alone in the South, the Crescent City schools experienced classroom integration during Reconstruction. The experiment was both extensive and successful. But it collapsed when the so-called Redeemers used violence to purge the schools and to restore segregation. The severe reaction almost destroyed the entire system of public education. And, after the schools slowly reemerged, fully segregated, they faced another round of turmoil in the middle of the twentieth century, as federal courts responded to a long tradition of local black protest and made New Orleans the first testing ground for desegregation in the Deep South.
It would be hard to find any urban public school system anywhere in the Western world which has faced a similar level of struggle and travail. Understanding this troubled past should disabuse any reader of the notion that the current crisis in public education in New Orleans and other large American cities is of recent origin or open to easy, simple remedy.
That the original ideals of American public education have come down to the present era flawed and unfulfilled should not be surprising. It is more amazing that the public schools of New Orleans have survived at all, and that they have often prospered. This first account of the Crescent City schools' long history recalls the dedicated efforts of those educators and civic leaders who remained committed to the ideals of public education and who nurtured the city's schools. It gives special attention to the remarkable corps of women teachers who overcame conflicts in city and state politics to improve conditions for themselves and for many of the city's children.
Praise for Crescent City Schools:
". . . more than a local institutional history of public education in New Orleans . . . a succinct one-hundred-and-fifty-year sociopolitical history of the Crescent City."
– Journal of Southern History
". . . the standard on public education in New Orleans . . . an important contribution to the history of education and race relations in the South."
– Louisiana History
Softcover, 416 pages, ©2012 (reprint of 1991 hardcover edition)
ISBN: 9781935754152