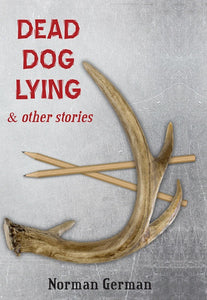 Dead Dog Lying & other stories
by Norman German
The stories of Dead Dog Lying shine a hard light on society's misfits: the misshapen in mind and body, children mystified by the adult world, and grownups trying--but never quite managing--to get it right. A man receives a message from a cell phone swallowed by a fish he's caught. A boy grows antlers that give him athletic prowess. A fiction writer learns about reality by walking into an improv play. Long after these allegorical stories are ingested, they will haunt the reader's troubled sleep.
"These truly enjoyable, offbeat tales showcase a wide-ranging talent guaranteed to please any reader."
--Tim Gautreaux, author of The Missing
"In Norman German's mesmerizing stories of south Louisiana, the ordinary is the fantastic, and the fantastic becomes the everyday....Horror and wonder live side by side in these powerful tales of haunted states of mind. Dead Dog Lying takes hold and will not let go."
--Gerald Duff, author of Dirty Rice and Blue Sabine
About the Author
Norman German is a Lake Charles native and English professor at Southeastern Louisiana University, where he has taught for twenty-seven years. His previous novels include A Savage Wisdom, No Other World, and Switch-Pitchers.
German's award-winning stories about baseball, football, track and field, and fishing have appeared in major literary and commercial venues in the U.S., Canada, and England.
German earned degrees in history, philosophy, and English from McNeese State, the University of Texas, and the University of Southwestern Louisiana. With artist Raejean Clark-German, he makes his permanent home on the Calcasieu River in Lake Charles.
ISBN: 9781935754633
Softcover, 248 pp., ©2015