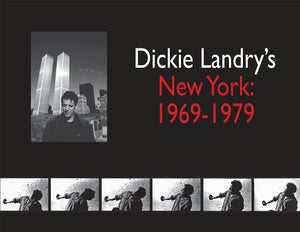 Dickie Landry's New York, 1969-1979
Richard "Dickie" Landry, from Cecilia, La., is an artist, photographer, musician, film maker, farmer, and all around Renaissance man. Whether working with Paul Simon, Philip Glass, Keith Sonnier, or Robert Rauschenberg, Dickie has surrounded himself with some incredibly talented people. To be sure, he is as equally talented in his own right. As it turned out, a camera was placed in his hand when he arrived in New York City in the late 1960s. Dickie captured some incredible moments in black and white images during a transformative and powerful time for the larger art world—a period that saw artists creating works that would challenge the norms and utilize new mediums, techniques, and ideas to buck the cultural status quo. These images form the basis for this catalog, which corresponds to an exhibit organized by the Paul and Lulu Hilliard University Art Museum in the spring 2014. These photographs provide powerful documentation and imagery of a time and place that is a critical foundation for today's contemporary art scene.


This catalog is a joint publication of the University of Louisiana at Lafayette Press and the Paul and Lulu Hilliard University Art Museum.