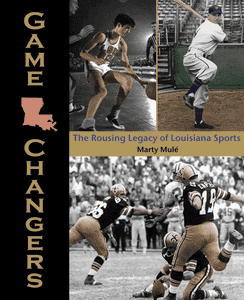 The Rousing Legacy of Louisiana Sports
by Marty Mulé
Louisiana defies logic when it comes to sports. Its native sons, daughters, and teams have left stamps on sports all out of proportion for what could be expected of a relatively small southern state. As Marty Mulé shows, Louisiana's athletic punch far exceeds its weight class.
Game Changers documents the enthralling history of Louisiana's athletes and more. There's the memorable match races between Lexington and Lecompe and Black Gold's Run for the Roses. There's Heisman Trophy-winner Billy Cannon on his famed punt return; Steve Van Buren rushing for the unheard of total of one thousand yards twice for the Philadelphia Eagles; Tom Dempsey's jaw-dropping field goal; and the Saints marching into the Super Bowl winners' club. There's the longest winning streak—218 in a row—for any sport or team outside of the Harlem Globetrotters, set by the Baskin High School girls basketball team.
And then there are the games themselves—historic events, such as the Sullivan-Corbett fight, which changed boxing forever; Super Bowl IV, which altered the course of professional football; or the NCAA Final Four tournament where Michael Jordan got his first flush of national accolades.
Maybe the motto on the license plate should read "Sports Fan's Paradise." For those who follow teams and athletes from the Pelican State, Louisiana is a boot-shaped Valhalla.
Hardcover, 10" x 12" oversize book, 224 pp., ©2013
ISBN: 9781935754251