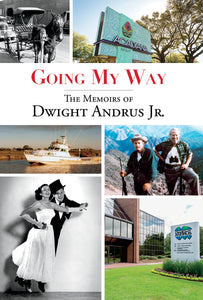 Going My Way: The Memoirs of Dwight Andrus Jr.
by Dwight Andrus Jr.; with Lana Henry
About the Book
Dwight Andrus, sometimes called "the man that built Lafayette," has been a significant force in the city's business, civic, and social life for more than sixty-five years. In Going My Way, a collection of autobiographical essays, Andrus details his story, which includes much of Lafayette's history, beginning with his earliest memories from the 1930s. These extraordinary tales range from surprising (such as his time as a tap-dancing prodigy) to intriguing (particularly the building of Acadiana Mall) to terrifying (including several life-threatening hunting and fishing adventures). Throughout the book shines Andrus's lifelong love story with his wife, Nedra, as well as his love for the people and culture of Lafayette and Acadiana.
Praise for Going My Way
"No river landing, no crossroads, no topographically appealing site or gathering place becomes a village, a town, and finally, a thriving city, without the actions of visionary, enterprising, risk-taking people who make things happen. The Dwight Andrus family spent a half-century in residential and commercial development, helping bring Lafayette to its current position as the center of business activity for southwest Louisiana. This is the story of those efforts and accomplishments . . . seasoned by selected elements chosen from the history of Lafayette's post-WWII growth." —Paul Hilliard
"Dwight's biographical sketch of the development of the Acadiana Mall is outstanding. He captures the flavor and tenseness of the times, the interaction of the players, the give and take of the negotiations. . . . The creation of a regional mall in the middle of Lafayette revolutionized the city . . . [now] a modern metropolis, able to compete in the twentieth century. The dynamics of what took place are captured in this well written, exciting book." —Hans Sternberg, former owner of Maison Blanche Department Stores
"The heyday of the oil boom grew the Andrus Family business by leaps and bounds, but the crippling effect of the downturn of the mid-1980s almost took it all away. Through the disciplined actions of Dwight Jr., he and Dwight Sr. led the family business out of these dark days and into a rebirth. This story is as much about Lafayette's resilience as the grit and fortitude of the Andrus Family."—Dwight Ramsay, Aries Marine Corporation
© 2021 University of Louisiana at Lafayette Press
Hardcover with Dustjacket | 430 Pages | 6" x 9" | ISBN: 978-1-946160-77-5