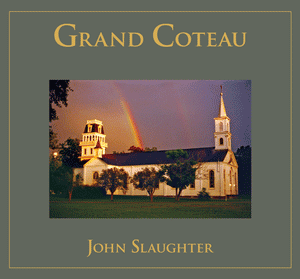 Grand Coteau
photography by John Slaughter
Grand Coteau is an iconic photographic record of a unique, historic Louisiana town, spanning thirty-five years (1977-2012). Photographer John Slaughter has selected choice images from his archive of vistas, architecture, and citizens to deliver a poetic presentation. An insightful introduction by Patrice Melnick as well as poignant captions add a social narrative that will inform and deepen one's experience of the artful images. For those familiar with the town, Grand Coteau will expand your appreciation. For everyone else it will reveal a place like no other. 
To view select images from the book, visit www.grandcoteaubook.com.
About the Photographer
John Slaughter took a serious interest in still photography while attending Northwestern University in Chicago. He spent a great deal of his time there in the film department though he was an English major. (John had several "Brownie" cameras growing up and even took a photo of John F. Kennedy at the 1962 All-Star baseball game.) Upon returning to Louisiana, in 1975 he sold his first art print, "Christmas Eve at Como Landing". After a two-month auto trip to Guatemala in 1976, where he honed his color photography skills, he set up a professional practice in Grand Coteau, Louisiana. In 1977 while doing a nine-month stint with the Opelousas Daily World he began printing Cibachrome color photographs. Though he did the usual wedding/portrait/commercial thing until 1991, he continued to take and show "art photos" while opening The Kitchen Shop with his wife Hilary in 1983, and eventually Catahoula's Restaurant in 1996. His portraits of Catahoula dogs displayed in that restaurant have been well-received. In addition, John worked in film and video and practiced his carpentry skills; but that's another story. He currently divides his time between residences in Grand Coteau and Marfa, Texas. Selections of his work can be viewed at johnslaughterphotography.com.   
Hardcover, 172 pages, ©2012
ISBN: 9781935754190