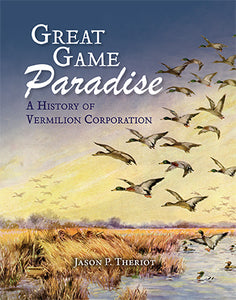 Great Game Paradise: A History of Vermilion Corporation
by Jason P. Theriot
About the book:
Great Game Paradise is an in-depth history of a vast, bountiful marshland under private land management during a century of enormous change along Louisiana's now threatened coast. As stewards of a 125,000-acre tract of prime marsh habitat, Vermilion Corporation and its predecessors have since the 1920s perpetuated the sport of duck hunting through a relentless pursuit of land conservation, sustainable development, and environmental restoration. As one of the largest privately managed wetlands in the state, this story represents a microcosm of the history of the Louisiana Gulf Coast—its resources, its culture, and its lure and its peril.
About the Author:
Jason P. Theriot, Ph.D. is an energy and environmental historian and consultant and author of American Energy, Imperiled Coast: Oil and Gas Development in Louisiana's Wetlands (LSU Press, 2014). ​He earned a doctorate in history from the University of Houston and a degree in journalism from Louisiana State University. He lives in Houston with his wife and two children and spends most of his recreational time in the marshes of coastal Louisiana.
Praise for Great Game Paradise:
"Having had the pleasure of hunting waterfowl for over twenty-five years on land managed by Vermilion Corporation, I have personally observed the challenges the company has faced in the preservation and restoration of this magnificent marshland. Theriot does a masterful job in Great Game Paradise of eloquently describing the unique history of this often overlooked area of our state and delineates the movement from its conservation based conception,  to its learning curve in striving to balance the energy industry and conservation, to its present battle to restore and preserve the marsh for future generations to enjoy, appreciate, and respect."
-Former Louisiana Governor Mike Foster
"Great Game Paradise is an outstanding history of Vermilion Corporation's efforts to preserve and rebuild our coastal wetlands.  Their goal was to ensure that the wetlands would remain for waterfowl, fisheries and human enjoyment, as well as preserving our great state of Louisiana.  They correctly engaged other individuals, companies, the courts, and both federal and state governments in their mission."
-Senator John Breaux, author of the Breaux Act to preserve Louisiana's wetlands
 "Jason Theriot has done a masterful job of describing how real settlement occurred in southern Louisiana.  People of insurmountable tenacity learned quickly from nature how to live with and prosper from her bounty in one of the most challenging environments on earth.  Over time, these people of the marsh began to understand that it was not just what nature could give that was critical to survival, but equally their responsibility to be good stewards.  It is a must read for anyone who loves the Louisiana marshes."
-H. Dale Hall, CEO, Ducks Unlimited, Inc and Director, U.S. Fish and Wildlife Service (Retired)
"In Great Game Paradise, Jason Theriot presents a comprehensive exploration of vigilant and litigious stewardship over a fragile environment and reminds us of the time and legacy of E. A. McIlhenny, who is recognized as the raison d'être of wildlife conservation in the south.  This book not only fills a gap on the Louisiana coastal history shelf, it offers an instructive lesson on perils pending for future generations."                                                                
-Richard B. Crowell, author of Chenier Plain
ISBN: 9781946160263
Available for PRE-ORDER,  Publication Date: September 18, 2018
Price: $29.95
Page count: 218 ©2018
Format: hardcover with dust jacket.