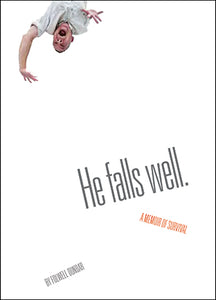 He Falls Well. A Memoir of Survival
by Folwell Dunbar
He Falls Well is a collection of short stories and vignettes recounting the ups, the downs, and the in-betweens of New Orleans educator and writer Folwell Dunbar. From the Seven Hills of Rome to the Volcán de Fuego in Mexico, from the deck of a German U-boat to the mosh pit of a kindergarten classroom, from close encounters with other species to perfectly planned dates gone terribly awry, the author takes us on an odyssey of misadventures and near-death experiences. He probes (and usually gets stung by) the age-old adage, "Nothing ventured, nothing gained." He treks into the quagmire of despair, and somehow, miraculously comes out standing — and smiling on the other side. 
Using concise language and swift dialogue, Dunbar recreates real-life scenes of survival. The book is a funny and terrifying tour de force.  
Having a rough day? He Falls Well is the perfect antidote.
About the Author:
Folwell Dunbar is a former Peace Corps volunteer, teacher, coach, and principal. He has worked with schools in all but three states, and his musings on education and other topics have appeared in numerous publications, including Teacher Magazine, Independent School, Middle Ground, School Administrator, Edutopia, Pacific Standard, and The Lens. A graduate of Duke and Tulane, he currently lives and coaches in New Orleans, Louisiana.
Praise for He Falls Well:
"The rule 'do not laugh at another person's misfortunes' does not apply to He Falls Well. The prose of Dunbar's (mis)adventures are timed and articulated to the point that you're moved to tears of laughter." 
—Kelley Crawford, via NolaVie
"We claim Folwell Dunbar in the Bywater neighborhood of New Orleans as our latest great muse. His writing is part Twain with a dash of Thoreau and pinch of Welty — in her more humorous moments. These vignettes are suffused with cynicism, laughter, and flying roaches, among other things, and speak to the glorious lives we lead in this great City." 
—David Rae Morris, Photographer/Filmmaker
"Short, funny, sometimes preposterous, sometimes poignant, tales from real life that the author obviously took as much relish in writing as the audience will in reading." 
—Dr. Julie Jones, University of New Orleans
ISBN: 978-1-946160-25-6
Projected Publication date: October 30, 2018
Price: $20
Page count: 282; Softcover with flaps