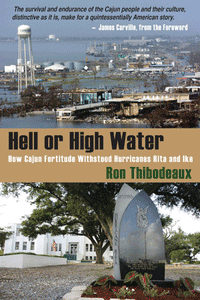 How Cajun Fortitude Withstood Hurricanes Rita and Ike
Ron Thibodeaux
2013 Next Generation Indie Book Awards Regional Non-fiction Winner
2013 Independent Publishers Silver IPPY Award in Southern Regional Non-ficton
Americans will long remember 2005 as the year of the hurricane, when so many storms formed in the north Atlantic that we ran out of names and had to use letters of the Greek alphabet to identify them. In the midst of that turmoil, one of the decade's most imposing hurricanes set itself apart from all others. It was, for a time, the largest hurricane ever measured within the Gulf of Mexico, and one of the strongest Category 5 hurricanes ever recorded. When it struck South Louisiana, its enormous storm surge and intense winds threatened more than just tens of thousands of local residents—it took dead aim on a culture and a way of life unique to all of the United States as well.
But this is not the story that most Americans think they know. This was not Hurricane Katrina, which held the country in rapt attention as the human misery throughout flooded New Orleans was compounded by inept government response at every level. No, this was Hurricane Rita, the otherLouisiana disaster of 2005. Rita clobbered communities across the entire 250-mile coastal foundation of Acadiana, America's one-of-a-kind Cajun country. From one end of the Louisiana coast to another, towns were flooded, populations were left homeless and without public services, and communities were all but wiped off the map.
As soon as Rita trailed off the National Weather Service radar, though, it also disappeared from the American consciousness. While New Orleans remained headline news, the communities hit so hard by Rita were all but forgotten and left to fend for themselves. But fend they did. Members of this predominantly Cajun population did what their Acadian forebears had done for centuries before them: adapt, survive, thrive in hostile environments. Their can-do, self-sufficient response to Hurricane Rita contrasted with the seeming paralysis afflicting much of post-Katrina New Orleans, but it was indicative of the history of the Cajun people in Louisiana, going back to their Acadian roots.
Incredibly, three years later, powerful Hurricane Ike provided an instant replay, taking an eerily similar track and slamming many of the same communities across South Louisiana. Hell Or High Water: How Cajun Fortitude Withstood Hurricanes Rita and Ike is the story of those places, their people, and their shared triumph against adversity. It's a story brought to life by a rich history and compelling, interwoven accounts of contemporary storm experiences from the hardy people of the Louisiana bayous.
"How the hardy people of the bayous overcame that adversity, time and again, is a story that is not well known—but it's one worth telling. The story provides only the latest chapter in the rich and unique history of Louisiana's Cajun people. The survival and endurance of those people and their culture, distinctive as it is, make for a quintessentially American story."
-- James Carville, excerpted from the Foreword
"Hell or High Water is a superb chronicle of Cajun hurricanes and folkways. But it's more than that; at heart, it's a mystery: Why would people so faithfully return to this imperiled and lethal landscape? Thibodeaux, a fine journalist and masterful raconteur, persuasively solves that mystery." 
–Jed Horne, author of Breach of Faith: Hurricane Katrina and the Near Death of a Great American City 
"When people or societies come under intense pressure, they either fall apart or come together. This is the story of people coming together, people determined to not just survive but to make things whole." 
–John M. Barry, author of Rising Tide: The Great Mississippi Flood of 1927 and How It Changed America and Roger Williams and the Creation of the American Soul: Church, State, and the Birth of Liberty 
"Ron Thibodeaux provides us with another stirring chapter in the long history of Cajun determination, told through the stories of ordinary people who decided, in the words of the old Acadian folk tale, 'j'avons pleuré assez, c'est l'heure de couper du bois' (we've cried long enough, it's time to cut wood)." 
–John Mack Faragher, author of A Great and Noble Scheme: The Tragic Story of the Expulsion of the French Acadians from their American Homeland 
"Ron Thibodeaux trains his considerable journalistic talents and his insider knowledge on two overlooked hurricanes that roared into his beloved home state in the giant shadow of Katrina. . . . Thibodeaux brings writerly flair and deft narrative to these largely untold stories of a resilient folk whose very way of life is under siege. As such, Hell or High Water is a hugely important addition to the canon of the literature of South Louisiana's imperiled coast and the Cajuns whose lives and culture are inseparable from it." 
–Ken Wells, author of The Good Pirates of the Forgotten Bayous 
"Ron Thibodeaux's Hell or High Water weaves Gulf Coast history into the true modern account of neighbor helping neighbor and parish helping parish. As told through his well-chosen words and journalistic style, the recent 'forgotten' hurricanes echo pre-24 hour news storms, when the people, without national attention or assistance, took care of themselves." 
–George Rodrigue, Artist 
"Journalist Ron Thibodeaux returns to his native Cajun country to tell a story of survival that is engaging, informative, and compassionate. Their losses are staggering, but the grit, humor and doggone determination of these resilient people is deeply moving—and offers lessons and inspiration for the rest of us." 
–Amy Dickinson, "Ask Amy" advice columnist and NPR contributor 
"Ron Thibodeaux's book is a gumbo of colorful Cajun characters, first-rate writing, and spicy cautionary tales. It's a must read for anyone who wants to understand 'hurricane culture' in this much-loved and long-suffering land." 
–Mike Tidwell, author of Bayou Farewell: The Rich Life and Tragic Death of Louisiana's Cajun Coast
About the Author
A writer and editor for more than 30 years at the New Orleans Times-Picayune, Ron Thibodeaux has been described as "a noted chronicler of Cajun country."
In travels throughout his native South Louisiana, he has written about Cajun culture in all its aspects, from killer hurricanes to men's supper clubs, from dancehall fiddlers to alligator wranglers, from the uncertain future of Louisiana's native French language to the challenges of keeping the Cajun experience authentic while marketing it to tourists. He also has ventured to the Acadian homeland of Nova Scotia to explore the modern-day similarities and distinctions between Louisiana's gregarious Cajun people and their more reserved Acadian cousins north of the border.
Ron is a graduate of Louisiana State University. From 2012 to 2014, he was an associate editor of the Louisiana Endowment for the Humanities' Louisiana Cultural Vistas magazine and KnowLA.org, the digital encyclopedia of Louisiana history and culture. He and his wife, Robyn, live in Baton Rouge, La., where he is press secretary for Louisiana Economic Development; they have three children and ten grandchildren.
Softcover, 212 pages, ©2012
ISBN: 9781935754114