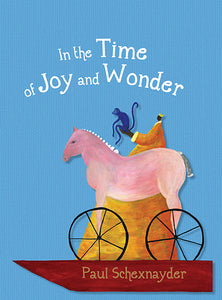 In the Time of Joy and Wonder
by Paul Schexnayder
In the Time of Joy and Wonder is the fantastical tale of a king, a Trojan horse, and a blue monkey and their exploration of a very small island with a mysteriously beached boat. In the middle of the boat's wreckage the explorers discover a young sapling. With much care, the three watch over and tend to the young sapling until it grows into a large and strong live oak tree. As with every living thing, all the tree needed was a little love and protection to grow into its mighty potential.
Paul Schexnayder is as an artist, author/illustrator, and art teacher. He is a member of the Society of Children's Book Writers and Illustrators, has illustrated over half a dozen children's books, and has been the official Louisiana artist of many state festivals and events. He owns an art gallery in his hometown of New Iberia, where he currently lives with his wife and three kids. For more information, visit www.Schex.com.
ISBN: 9781946160089
Hardcover with dust jacket, 32 pp., ©2017
October 24, 2017.