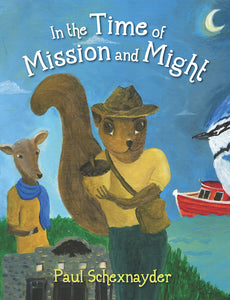 In the Time of Mission and Might
by Paul Schexnayder
When nine special acorns disappear from the Live Oak Museum, Lilla Cornflake hires flying squirrel archaeologist Professor Flynn to investigate.
Young readers are sure to enjoy Louisiana author and artist Paul Schexnayder's In the Time of Mission and Might, an adventurous tale of mystery, bandits, and snakes!
The third volume in a three-part series, In the Time of Mission and Might returns to the imaginary world of the Legacy Acorns, building towards an uplifting conclusion.
About the author:
A native of New Iberia, Louisiana, Paul Schexnayder earned his Bachelor of Fine Art degree from Louisiana State University. He has since worked as an artist, author/illustrator, and art teacher. Despite being colorblind, he is well known for his intensely colorful acrylic paintings, which often feature Louisiana themes, and which are as whimsical and poetic as they are mysterious and thought-provoking. Schexnayder is a member of the Society of Children's Book Writers and Illustrators, has illustrated over half a dozen children's books, and has been the official Louisiana artist of many state festivals and events. He owns an art gallery in his hometown of New Iberia, where he currently lives with his wife and three children. For more information about Paul and his work, visit his website at www.schex.com.
Hardcover with dustjacket
36 pages | 8.5" x 11"
ISBN: 9781946160508