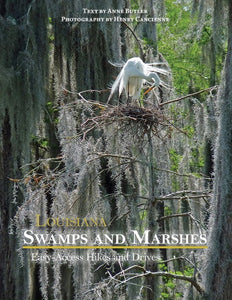 Louisiana Swamps and Marshes: Easy-Access Hikes and Drives
Text by Anne Butler; Photography by Henry Cancienne
Includes directions and information for thirty-seven of Louisiana's easily accessible natural parks and wetlands.
Louisiana's wonderful wetlands, coastal marshes, and swamps have meant much to different visitors over the years--sustenance for fisherman and trappers, food supplies for hunters, inspiration for artists and writers, hideouts for hermits and pirates, unbroken solitude for weary souls and assorted dreamers clinging to a vanishing way of life.
But these wonderful wild spots are so fragile, and every year brings the loss of more of them. We have been so careless about our environment in the past, so sure our natural resources would last forever. Now we know better.
Noted photographer Henry Cancienne has a passion for preserving our unique natural environments through his spectacular images, and in this book he shares some of his favorite walking trails and drives, most free and easily accessible via raised boardwalks and well-maintained paths. Significant spawning/nesting/breeding grounds and vital habitats for wildlife, including a number of endangered species, these wetlands and wildernesses are themselves in danger of vanishing as well. Visit them while you can.
About the Author
Anne Butler is author of twenty books, some more substantial than others, and hundreds of articles for newspapers and magazines. Her passion is the preservation in print of Louisiana's unique history and culture. A graduate of Sweet Briar College in Virginia with a Masters in English from Humboldt State University in California, she lives on an old family plantation in St. Francisville.
About the Photographer

Henry Cancienne is a photographer who has spent the majority of his life in Lafourche Parish, Louisiana. Cancienne earned bachelors and masters degrees from Nicholls State University. He is a United States Air Force Vietnam veteran, retired science teacher, petroleum chemist, volunteer fire fighter, and presently a police officer. His photographs have been exhibited in many of the libraries, national parks, and plantation homes throughout the state of Louisiana. Cancienne's photographs have appeared in twenty-one books and numerous magazines.
ISBN: 9781935754664
Softcover, 208 pp, ©2015