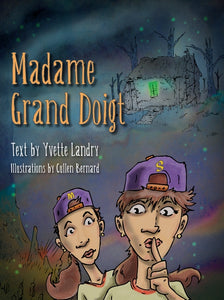 Madame Grand Doigt
by Yvette Landry, with illustrations by Cullen Bernard
Marie's Grandmother Viola always told her stories. Her favorite was of a strange old woman named Madame Grand Doigt (Ma-dahm Grahn Dwah). Legend is, she drifted in the attics of families with children. At night, her long, bony fingers would slink down through the rafters and snatch up any kid who was not doing as told.
"What does she do with the kids once she grabs them?" Marie would ask.
Grandmother Viola never answered.
With only a few weeks before her 13th birthday and the start of school, Marie's family, and her best friend Scooter, make one last trip down to Pointe-aux-Chenes. While there, Marie and Scooter unwittingly follow the tracks of the elusive marsh goats and discover the answer—a horrifying secret that changes their lives forever.
Yvette Landry grew up in Breaux Bridge, Louisiana, not far from the levees of the Atchafalaya Basin. It was in and around that swamp where she learned to hunt, fish, ride horses, dance, understand French, and tell stories. A Grammy-nominated, award-winning vocalist, multi-instrumentalist, and songwriter, Yvette has recorded on nineteen records, including her own award-winning debut album titled Should Have Known (2010). Yvette has traveled the world and played countless cultural festivals from the New Orleans Jazz and Heritage Festival to the Grass Roots Festival of Music and Dance in New York. She toured Russia where she served as Cultural Ambassador on behalf of the Library of Congress while performing with the Festival of Traditional American Music. Elected as Governor to the Memphis Chapter of the Recording Academy, she fronts her own band and is a member of The Lafayette Rhythm Devils, Balfa Toujours, and several prominent Cajun bands. Yvette also serves on the board of Louisiana Folk Roots and is acting director of its summer Kids Camp.
Yvette is also a noted children's author, whose first book, The Ghost Tree (2012), received a nomination for Louisiana's Young Readers' Choice Award and represented Louisiana at the National Book Festival in Washington, D.C.
When not playing music or writing, Yvette stays busy as a mother, a private homeschool teacher, an adjunct professor at the University of Louisiana at Lafayette, co-founder of Song and Sign, and a sign language interpreter.
To learn more about Yvette, visit: http://yvettelandry.com
Illustrator Cullen Anthony Bernard is a visual artist and illustrator from Lafayette, Louisiana. Cullen began drawing at an early age after being inspired by the art of early Warner Bros. animation and the works of other artists such as John K. (Ren and Stimpy) and Ralph Bakshi (Mighty Mouse, The Hobbit). These days, Cullen is the owner and operator of Folklore Goods and Supply, a local business that focuses on unique functional art and apparel.
To see more of Cullen's work please visit www.folkloresupply.com
ISBN: 9781935754824
Softcover with flaps, 80 pp., ©2016
Release date: September 13, 2016