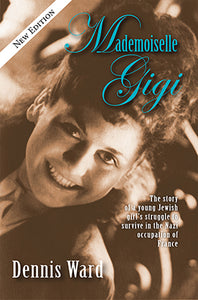 Mademoiselle Gigi
by Dennis Ward
Gigi, a fun-loving Jewish girl about to marry a Louisiana Cajun soldier at the end of World War II, reminisces about the war years and her family's struggle to survive them. Gigi's impeccable world of loving family, friends, and her plans to attend art school is shattered as the German Army approaches Paris. Along with millions of other refugees, the family takes the decision to flee the advancing Nazis. Marked as rich Parisian Jews, her family is subject to people's scorn while the French Republic crumbles around them. During the next four years, they will endure isolation, starvation, deportations of family and friends, and the horrors of the Gestapo. Despite living through the grim realities of war, Gigi emerges from girlhood adolescence to become a beautiful young woman with a monumental sense of humor and lightness of being.
 Sometimes comic, sometimes tragic, Mademoiselle Gigi is an emotional rollercoaster that takes the reader on a page-turning journey from pure joy and laughter to despair and tears. Gigi's indomitable spirit will inspire and capture your heart. Dennis Ward's debut novel is based on the true-life events of Gisèle "Gigi" Carriton. This book is a new edition that includes an additional chapter, and the sequel, Madame Gigi, is now available in the Gigi Series.
 To learn more about the Gigi series and peruse Dennis Ward's literary garden of books, plays, and short stories, visit DennisWardAuthor.com or DennisWardAuthor/Facebook.com.
Dennis Ward is an award-winning playwright and author from Lafayette, Louisiana. His personal essays, short stories, and novel excerpts have been published inSouthwest Review, Deep South Magazine, and Grey Wolf Publishing's Legends. His friendship with Gigi Carriton inspired his first play, Chez Gisèle (2010), a drag-musical, comedy noir, which won as a finalist in the 2011 New Orleans Saints and Sinners Theater Festival. Her epic life story also fueled Ward to write his first two novels, Mademoiselle Gigi and Madame Gigi. In addition to his work on the Gigi series, Ward has written three additional plays, including The Roadkill Diner (2011),Big Daddy's Last Dance (2016), and Finding Nelson Mandela (2017).
ISBN: 9781946160119
Softcover, 334 pp., © 2017
Release Date: August 15, 2017