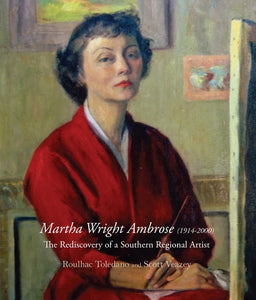 Martha Wright Ambrose (1914-2000): The Rediscovery of a Southern Regional Artist
by Roulhac Toledano and Scott Veazey
Imagine purchasing a house and finding a treasure trove of art by a single significant artist, left all but abandoned in a leaky garage. This is exactly what happened to Scott Veazey when, in 2003, he purchased the home of his lifelong friend and mentor, artist Martha Wright Ambrose. Ambrose's work had been largely forgotten, but a chance encounter between Veazey and award-winning art and architectural historian and writer Roulhac Toledano brought revived interest in her art.
Thoroughly researching the artist's life in interviews, published sources, and archives, Toledano and Veazey have since worked to fill in the story that is Martha Ambrose: from her formal art education at the New Orleans Art School, the Art Students League of New York, and the Cape School of Art; to her marriage and travels with fellow artist Jack Ambrose; and her career as an artist, teacher, and activist in the New Orleans community.
Painting over the course of fifty years, Ambrose, both student and teacher, remained true to herself as a representational artist, determined to "be, each day, a better painter." Her paintings include the architecture of New Orleans and southern Louisiana, rural landscapes and waterways, as well as depictions of her worldwide travels. Rescued from certain destruction, Ambrose's extensive body of work has since been cleaned and preserved and is presented to the general public for the first time in Martha Wright Ambrose (1914-2000): The Rediscovery of a Southern Regional Artist.
Material collected and included here also brings into print for the first time information on Ambrose's colleagues and acquaintances: New Orleans artists, gallery owners, and art teachers who spent their lives promoting French Quarter and south Louisiana art. The authors also introduce readers to dozens of twentieth-century southern and New Orleans artists, placing them and Ambrose in her appropriate context as a twentieth-century Southern Regional artist.
Over four decades since her graduation from Newcomb College of Tulane University, Roulhac Toledano has authored over twelve books and hundreds of articles on southern art and architecture. In addition she has curated art exhibitions at the Louisiana State Museum and the New Orleans Museum of Art. Along the way she has won an International Book Award from the American Institute of Architects for her National Trust Guide to New Orleans and, with her co-author, won the Society of Architectural Historians award for the Most Scholarly Book on North American Architecture.
Louisiana native Scott Veazey, a graduate of Louisiana State University, has renovated numerous houses in historic neighborhoods throughout New Orleans. His projects have been featured in books and local publications, and he has received awards from the Vieux Carre Commission, as well as a special award created for him from the Historic District Landmark Commission, for his many contributions to preservation. In 2003, while lovingly renovating the home Martha Wright Ambrose, he found several hundred paintings, sketches, and studies by Ambrose.
ISBN: 9781935754770
Softcover with flaps, 282 pp., ©2016