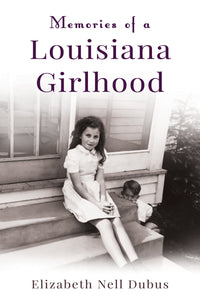 Memories of a Louisiana Girlhood
by Elizabeth Nell Dubus
Out now!
About the Book
Set in the turbulent times of the early twentieth century, Memories of a Louisiana Girlhood recounts the years 1933 to 1945 from the viewpoint of a girl growing up in southwest Louisiana, a unique region of manners, mores, frequent celebrations, and diverse food of both the French and Cajun settlers. Sprinkled among the pages are stories of Dubus's encounters with spirited relatives, adventures with neighborhood children, adolescent growing pains, teen escapades, glimpses into Catholic girls' education, ice cream socials and picnics—all under the watchful and amused eyes of a close-knit community. Recipes from the author's family and friends are lagniappe to be enjoyed again and again.
Born into two remarkable families, author Elizabeth Nell Dubus recalls a world that, except in memories, has almost ceased to exist. This memoir makes it real for all who read it.  
About the Author
Elizabeth Nell Dubus published four Louisiana-based historical novels—Cajun, Where Love Rules, To Love and To Dream, and Twilight of the Dawn—in the United States, Canada, Great Britain, Australia, and France, as well as a contemporary novel, Marguerite Tanner, published in the United States and Denmark. Her numerous award-winning plays, including Slow Fugue Before Dying, Jazz at Midnight, and Wages, have been produced in theaters across the nation, including Los Angeles, Chicago, Washington, DC, New York City, and New Orleans. Two additional plays, Power Point and Welcome Party, were published in whole and as part of an anthology, respectively.
 For over a decade, Ms. Dubus penned a popular local newspaper column, "Conversations Over Coffee," which ultimately led to the publication of her parenting book, When a Parent Imposes Limits: Discipline, Authority, and Freedom in Today's Family.
 Ms. Dubus taught writing at Louisiana State University, Southern University, and what is now the University of Louisiana at Lafayette, her alma mater. With a colleague, she also created and taught a drama program at the Louisiana State Penitentiary (known locally as Angola) that continues today.
 Memories of a Louisiana Girlhood, her final work, was published posthumously.
Praise for Memories of a Louisiana Girlhood
"With clear and wonderfully evocative prose, Elizabeth Nell Dubus lovingly captures a time that is no longer, inviting us back to Louisiana's wide porches and live oaks with compelling stories and rich recipes that can only feed us again and again. Memories of a Louisiana Girlhood will nourish your body and your soul."—Andre Dubus III, best-selling author of House of Sand and Fog and Townie
 "In Memories of a Louisiana Girlhood, Elizabeth Nell Dubus has created a tender and nostalgic accounting of an almost blissful childhood in south Louisiana in the 1930s and '40s. She has fondly memorialized an era through her own optimistic yet rational lens, gently weaving real history into family and personal remembrances, with the addition of south Louisiana recipes that reflect delicious memories evoked in each chapter."—Mary Ann Sternberg, author of Along the River Road, River Road Rambler, River Road Rambler Returns, and Winding through Time
 "Elizabeth Nell Dubus has written a memoir dense with details of a way of life long gone. Born during the Great Depression, she grew up mostly in Lafayette surrounded by a large family of aunts, uncles, and cousins. A montage of sensual memories, full of scents, sounds, textures, and tastes, presents a childhood recalled in almost photographic detail. Her memories of gardens of old bourbon roses, sweet olive, and gardenia are so vivid you can almost smell their perfume. She describes grandmothers and aunts with "backbone" yet beautifully dressed for every occasion, bringing these strong—sometimes eccentric—women to life. Her father, though often away earning a living, is recalled as a man who taught her to value character above all. Schooled by Catholic nuns and surrounded by friends and cousins, she enjoys dance classes and afternoon teas, learning good manners and the ways of civilized adults. Her accounts are laced with humor—an aunt describes an aging Weeks Hall greeting guests at Shadows-on-the-Teche as 'starkers.' Along the way Dubus—who became a novelist and playwright—learned to cook; each chapter ends with a selection of mouth-watering recipes, including fig preserves and pain perdu. This account of a girlhood she describes as 'lucky' is a wonderful trip back in time."—Ruth Laney, author of Cherie Quarters: The Place and the People That Inspired Ernest J. Gaines
© 2023 University of Louisiana at Lafayette Press
Paperback | 6" x 9" | ISBN: 9781946160997 | Pub date: September 5, 2023