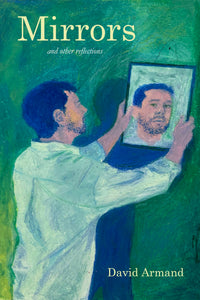 Mirrors and other reflections
by David Armand
Available now!
About the Book
Mirrors is a collection of interconnected essays that recount the author's adoption and boyhood in rural Louisiana. He writes candidly about his troubled teenage years, experimenting with drugs and alcohol, then dropping out of school and working odd jobs. 
 While most of the book deals with the author's youth, the collection ultimately builds to the final piece, which describes his unexpected discovery of a hidden past.
About the Author
David Armand was born and raised in Louisiana. From 2017–2019, he served as writer-in-residence at Southeastern Louisiana University, where he is currently Assistant Professor of creative writing. An award-winning author, including the 2022 Louisiana Writer Award, Armand has published four novels, three collections of poetry, and a memoir. 
Praise for Mirrors and other reflections

"In the small and big reflections that take him from a boyhood often spent on a precipice into a fulfilling, successful adulthood, Armand reveals not only himself but something in us all: within matters outwardly ordinary lie life's extraordinary truths about innocence and wisdom, love and loss, struggle and triumph."—Morris Ardoin, author of Stone Motel: Memoirs of a Cajun Boy
"David Armand writes beautiful and true sentences about the way we build our lives. In these unsparing yet sensitive essays, he shows us the strange and striking and wonderful in ways that will leave the reader not just changed but moved. Most importantly, they will know how rare it is to find a book of genuine wisdom."—Charles Dodd White, author of A Year without Months
"David Armand's collection of autobiographical essays, Mirrors and other reflections, is complementary to his earlier book, my mother's house: a memoir. From the first paragraph of my mother's house, Armand's mother is an overwhelming, chaotic presence, both physically and emotionally. Mirrors and other reflections focuses more on the negative space in Armand's life left by her absence when she could no longer care for him. 'Hiraeth,' a Welsh word meaning 'homesick,' is the title of the introduction to Mirrors. Unfortunately, young David's home might as well be in Wales as his home town of New Orleans; home is beyond his reach either way. Taken in by family living near Folsom, Louisiana, on the North Shore of Lake Pontchartrain, Armand calls them his step family and tells stories about early video games, heat, poverty, boredom, alienation, and acting out that made up his years in the piney hills of the North Shore. David Armand's Mirrors and other reflections is essential reading for anybody interested in Louisiana literature."—Bruce Magee, Associate Professor of Literature and Language, Louisiana Tech University
"With all of the nooks and crannies that make a person's life, it is easy to say that everyone's life is interesting. However, not everyone has the ability to make their lives into a masterpiece, and though David Armand's years have been full of twists and struggles, his candid and expressive voice makes Mirrors and other reflections a story worth experiencing. Armand's recounting of his teenage years is alarmingly relatable and artfully executed—especially for those that spent adolescent years in the sticky Southern heat riding around in a beater car because there was nothing better to do. Through his writing, he transforms even the dullest and gray landscapes (like a telemarketing call center) into pensive hotbeds for emotion and intrigue."—Wilhelmina Durham, writer for Deep South Magazine
© 2023 University of Louisiana at Lafayette Press
Paperback | 6" x 9" | ISBN: 9781946160966