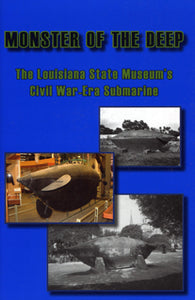 The Louisiana State Museum's Civil War-Era Submarine
by Greg Lambousy
A New Orleans landmark for over one hundred years, it was first removed from its original shallow grave in Lake Pontchartrain, abandoned on the shores of Bayou St. John, then a curious oddity at the old Spanish Fort amusement park; still later it was retired to the Confederate Soldiers Home, before being proudly displayed in Jackson Square for a half-century. Now it has a new home in Baton Rouge...
What is it? Where did it come from? Who built it? What was its purpose? 
This is the story of the Louisiana State Museum's Civil War-era submarine.
Softcover, 30 pages, ©2006
ISBN: 9781887366700